Media Release ·
Biggest coral reseeding project deployed as Great Barrier Reef spawns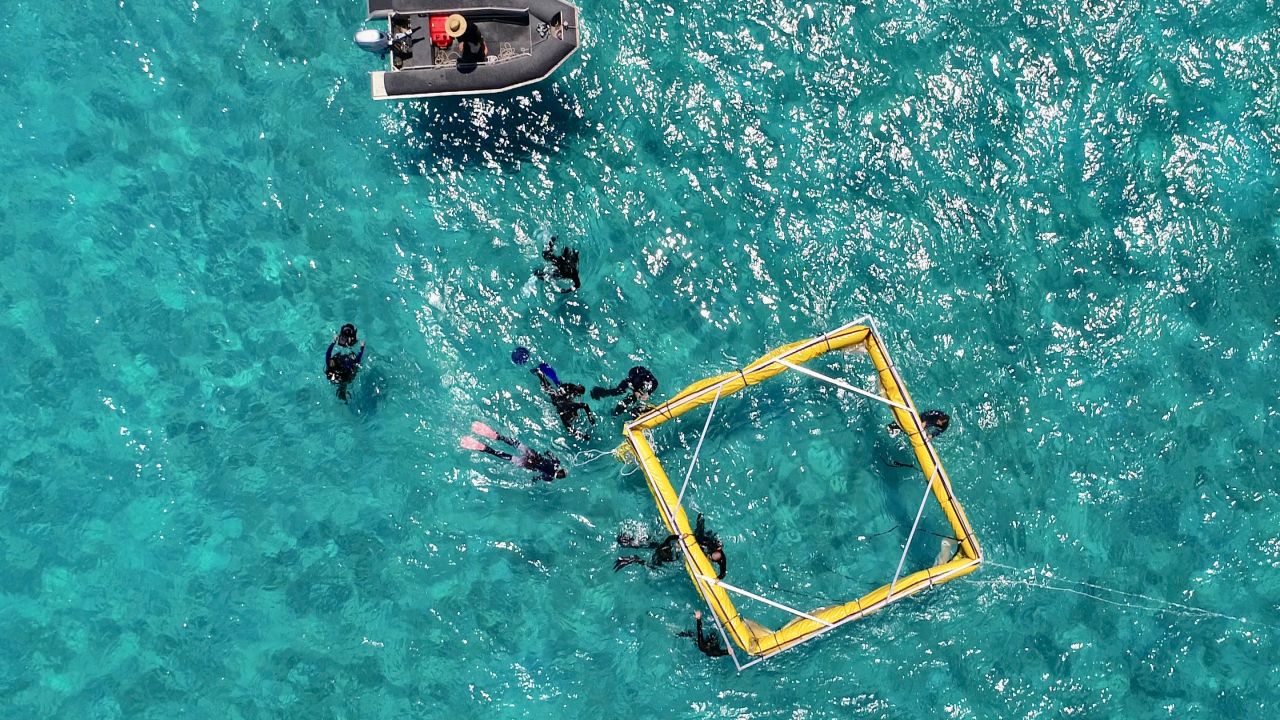 The pioneering larval reseeding ('coral IVF') technique was piloted for the first time on the Great Barrier Reef in 2016 through the GBRF's support of Professor Peter Harrison's groundbreaking work.
In 2018, the project has expanded with funding from the Australian and Queensland governments and a wide-ranging science and community collaboration...
Media release
Biggest coral reseeding project deployed as Great Barrier Reef spawns

The largest collaborative effort in history to regenerate a reef using millions of coral spawn has begun off the coast of Cairns, Queensland.
The Larval Restoration Project aims to repair the reproductive life cycles of corals and to re-establish breeding populations on damaged reefs in the Vlasoff and Arlington Reef area off Cairns. It coincides with the annual mass coral spawning which commenced last night.
Bringing together some of the world's leading coral scientists, tourism and other key industry partners, the team will harvest millions of coral eggs and sperm during the upcoming spawning event to grow new coral larvae, which will be released back onto heavily degraded parts of the northern Great Barrier Reef.
This project is led by Southern Cross University's (SCU) Professor Peter Harrison, whose research in coral reproduction and larvae has rapidly advanced the potential for large scale reef recovery. Professor Harrison said that this is the most ambitious effort to regenerate a reef to date.
"This is the first time that the entire process of large scale larval rearing and settlement will be undertaken directly on reefs on the Great Barrier Reef," Professor Harrison said.
"Our team will be restoring hundreds of square meters with the goal of getting to square kilometres in the future, a scale not attempted previously."
This project is a collaboration between researchers Peter Harrison (SCU), Katie Chartrand (James Cook University) and David Suggett (University of Technology Sydney), the Great Barrier Reef Marine Park Authority, Queensland Parks & Wildlife Service, as well as other key industry partners.
This partnership relies on key linkages between local tourism and other reef-based industries to be able to restore larger areas of reef than ever before. Aroona Boat Charters, Argo Expeditions and Biopixel have donated key vessel and crew support during the mass spawning to assist with rearing and settling the coral larvae safely onto the reef.
"We hope to make direct partnerships between science and other industry partners the norm rather than the exception as these innovations develop," Ms Chartrand said. "Collaboration is fundamental to a successful outcome."
One of the innovations being trialled during this project is mass co-culturing of coral larvae with their algal partners (microscopic zooxanthellae). "These microalgae and their symbiosis with corals is essential to healthy coral communities that build reefs," Professor Suggett said. "So we are aiming to fast-track this process to see if the survival and early growth of juvenile corals can be boosted by rapid uptake of the algae."
Professor Harrison's team has successfully trialled the technique on smaller scales in the Philippines, as well as Heron and One Tree Islands on the Southern Great Barrier Reef. If the enhanced techniques prove successful, it has the capacity to be scaled globally to reefs around the world.
But he cautions that the project will not 'save' the Great Barrier Reef. "Our approach to reef restoration aims to buy time for coral populations to survive and evolve until emissions are capped and our climate stabilises," Professor Harrison said. "Climate action is the only way to ensure coral reefs can survive into the future."
The annual coral spawning, one of nature's greatest events, takes place every year around the October / November full moons. A successful spawning is not only vital for this project, but also shows that the Reef is alive and has potential to recover from the back-to-back bleaching events of 2016 and 2017.
The corals which have survived these bleaching events are thermally tolerant, so it's predicted the larvae produced during this project will also grow into thermally tolerant corals, and so better able to survive future bleaching events.
The project is funded by the Queensland and Federal Government through the Advance Queensland Small Business Innovation Research (SBIR) initiative.
Citizens of the Great Barrier Reef are sharing the progress of the project and the annual spawning event on Facebook, Instagram and Twitter (@citizensGBR) and via the project webpage
With thanks to the project partners for their support:
Southern Cross University
James Cook University
University of Technology Sydney
Aroona Boat Charters
Advance Queensland
Queensland Parks and Wildlife
Great Barrier Reef Marine Park Authority
Argo Expeditions
Biopixel
Reef Magic
Citizens of the Great Barrier Reef
Yirrganydji Land and Sea Rangers
Gunggandji Land and Sea Rangers
Great Barrier Reef Foundation
Queensland University of Technology
Cairns Marine