News ·
Taking to the skies to shade corals
​The Great Barrier Reef Foundation, together with Southern Cross University, is trialling an innovative new technique to prevent coral bleaching by spraying microscopic seawater particles into the air.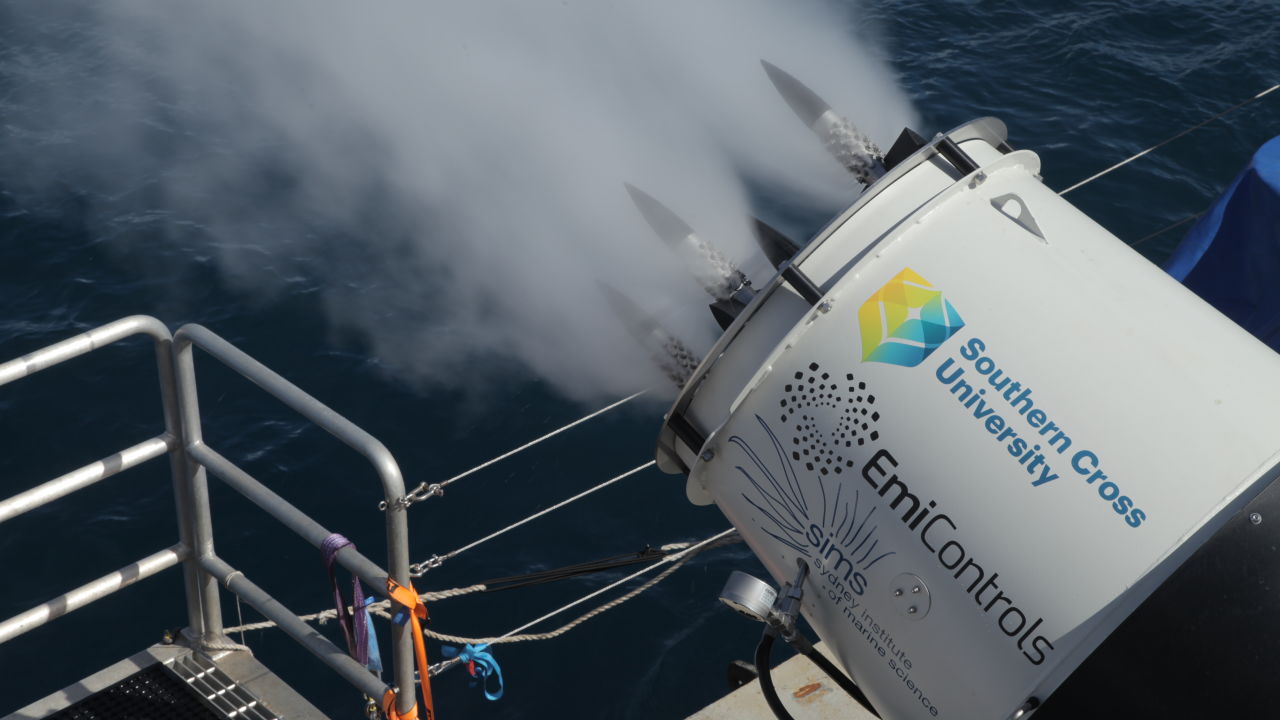 Known as "cloud brightening", this technique enhances the clouds, helping them to reflect solar energy away from the Reef which protects coral from bleaching.

An initial trial of the prototype cloud brightening equipment in 2020 has proved it is feasible to pump seawater and atomise it into tiny droplets at a rate of hundreds of trillions per second.
Our researchers recently completed a second trial which gathered critical data on the behaviour of the atmosphere over the Reef during the summer months, when corals are most at risk of bleaching. They also mapped the movement of the atomised sea salt plume to better understand how cloud brightening could be most effectively deployed over the Reef.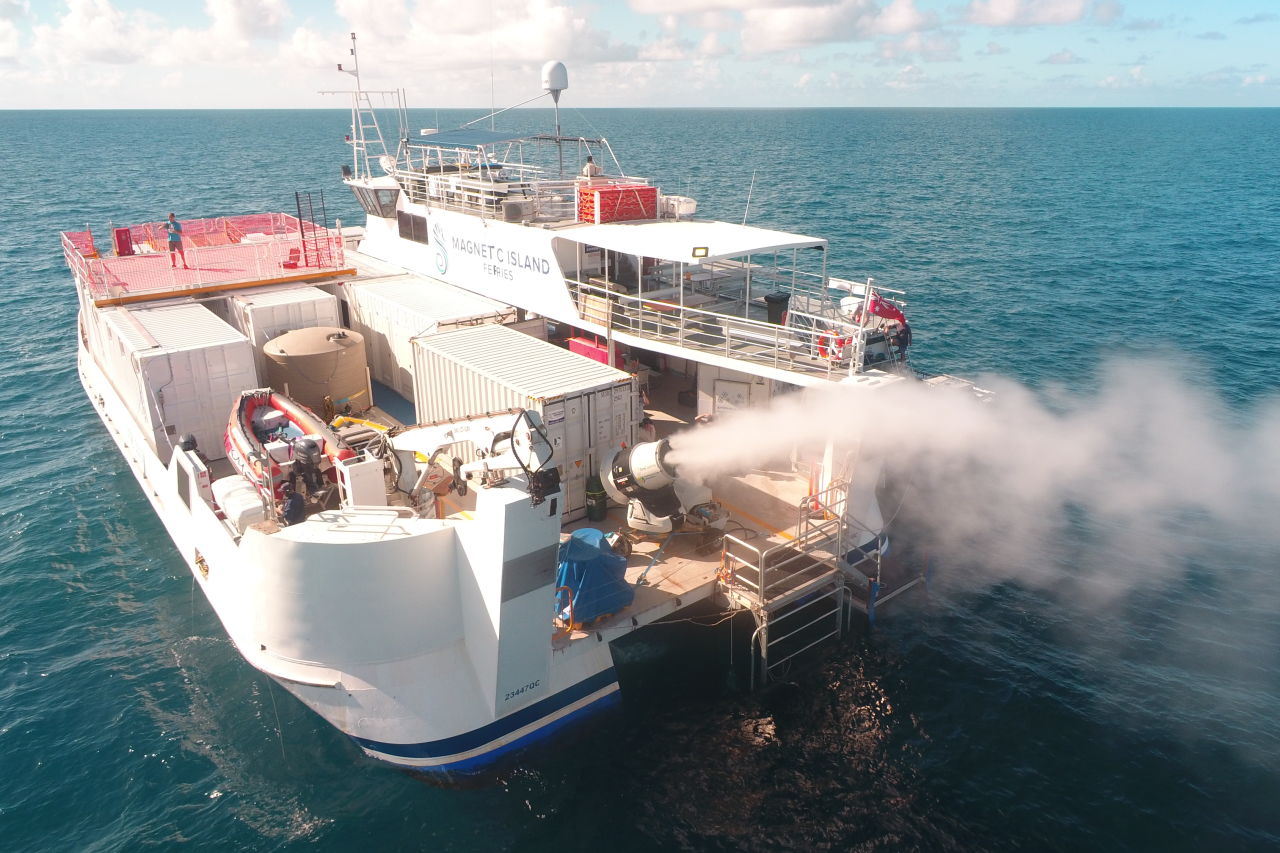 The cloud brightening equipment creating a plume. Credit: Southern Cross University
Great Barrier Reef Foundation managing director Anna Marsden says it is crucial to pioneer new techniques to help save our Reef from a growing combination of threats.
"The greatest threat to our Reef is climate change and we're already seeing the effects, with three mass bleaching events in five years," Ms Marsden says.
"The rate at which bleaching events are now occurring on the Reef is a matter of huge concern but there is hope, and the time to act is now.
"That's why, through the Reef Restoration and Adaptation Program we're bringing together people and science to pioneer new solutions, such as cloud brightening, to restore coral reefs and help them adapt at unprecedented scales."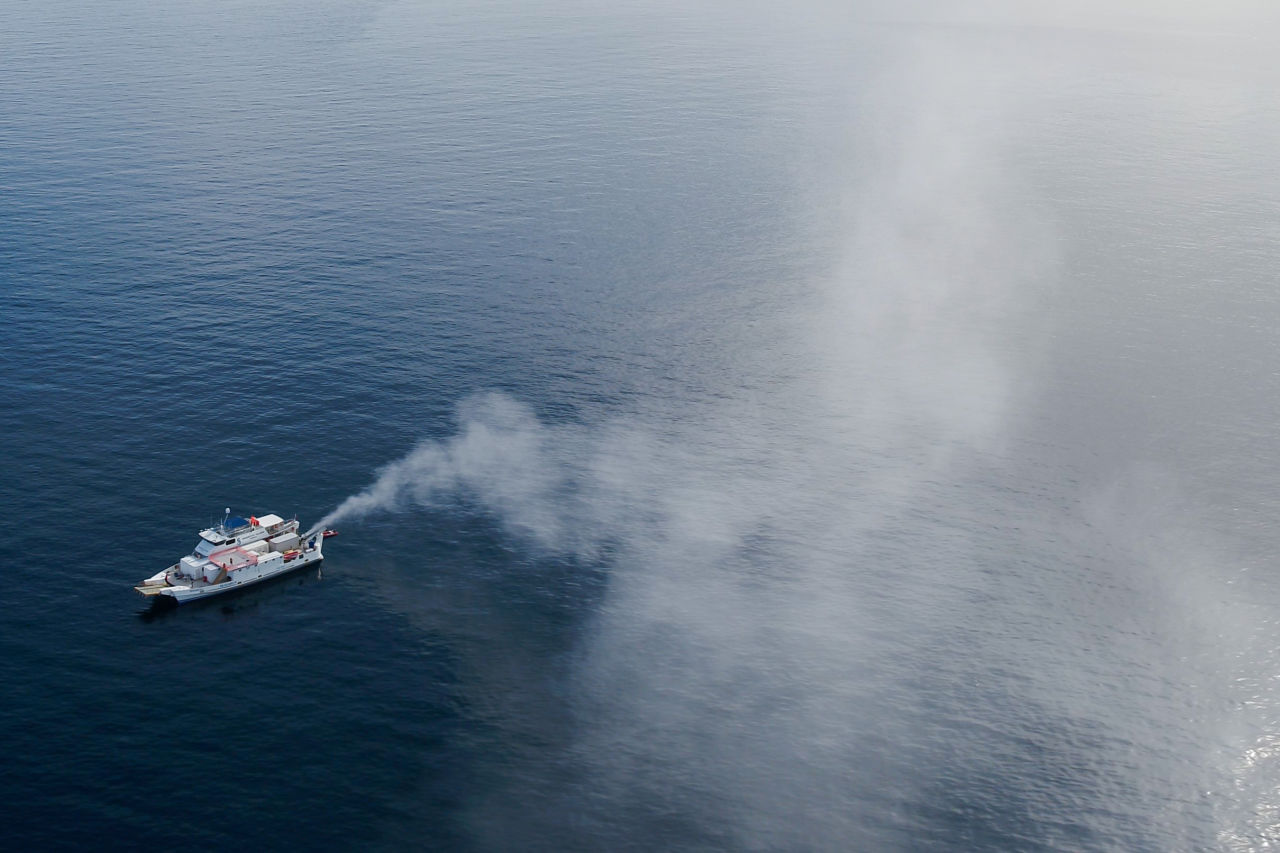 The plume from the cloud brightening equipment. Credit: Southern Cross University
Project leader and Southern Cross University senior lecturer Dr Daniel Harrison says cloud brightening has the potential to protect the entire Great Barrier Reef from coral bleaching in a relatively cost-effective way, buying precious time for longer-term climate change mitigation.
"What's unique about this technique is that it can be used intermittently when required as an emergency response to protect corals from bleaching during marine heatwaves.
"Marine cloud brightening sees microscopic seawater droplets sprayed into the air, creating a plume of salt crystals which interacts with cloud to reflect solar energy away from the reef waters when heat stress is at its maximum," Dr Harrison says.
"It's effectively boosting a natural process because cloud droplets form over the ocean when moisture gathers around mostly salt crystals, stirred up by winds from the ocean's surface.
"This year what we were really interested in looking at was the behaviour of that plume of saltwater droplets as it drifted away from the boat and mixed towards the clouds. We hope this critical information we've collected will help us design a system for the future that will enable us to show a brightening response in the clouds."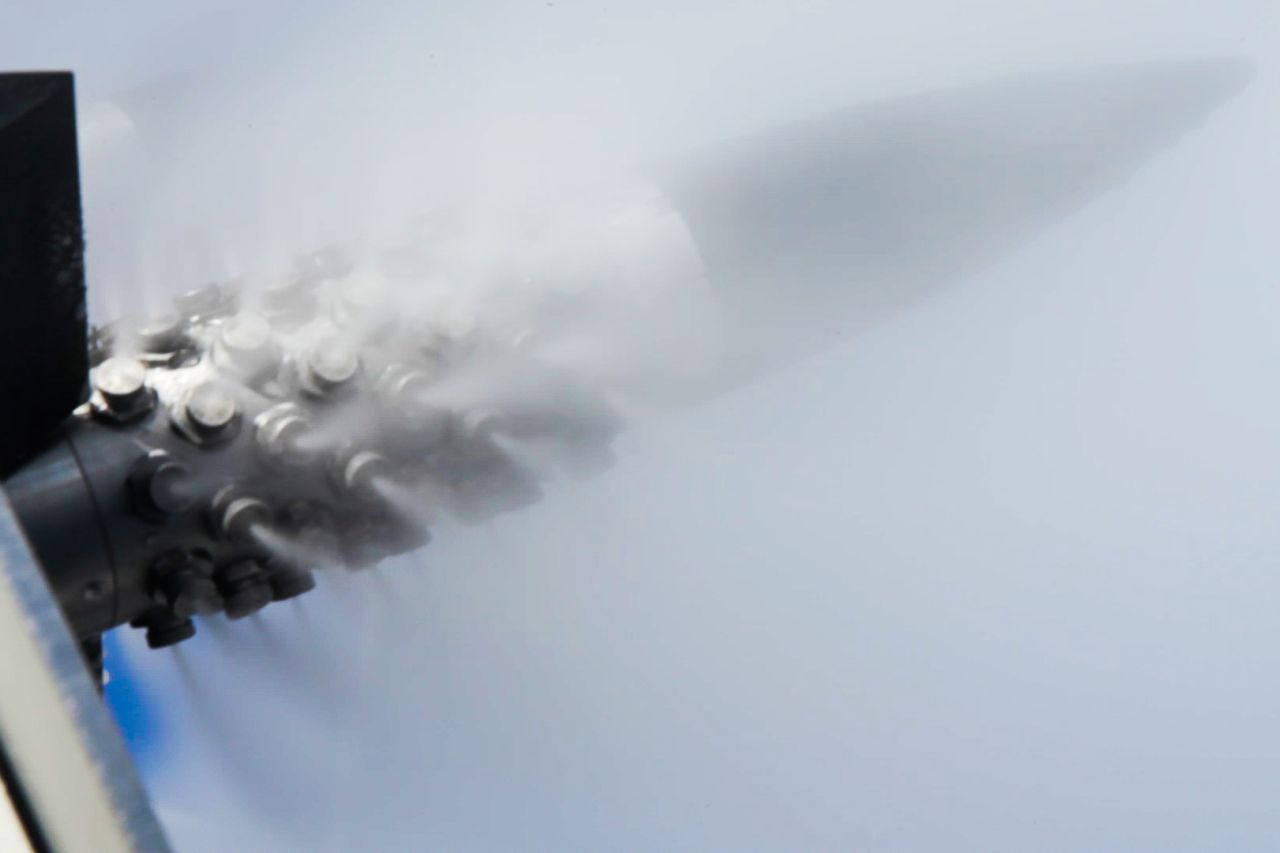 The seawater sprayer jets up close. Credit: Southern Cross University
Manduburra traditional owner Usop Drahm, who has joined both expeditions, says he welcomes this scientific research, which has seen Indigenous people and other Australians work together to maintain the Reef ecosystem for future generations.
"This technology might help prevent bleaching and we like that it uses no chemicals and relies on natural processes," Mr Drahm says.
The Reef Restoration and Adaptation Program is funded by the partnership between the Great Barrier Reef Foundation and the Australian Government's Reef Trust. It is delivered by a collaboration between the Australian Institute of Marine Science, the Great Barrier Reef Foundation, CSIRO, The University of Queensland, QUT, Southern Cross University and James Cook University.
The trial involved researchers from Southern Cross University and QUT in partnership with SIMS (Sydney Institute of Marine Science), University of Melbourne, University of Sydney, Ron Allum Deepsea Services, Australian Institute of Marine Science, Riverside Marine, EmiControls, and Quaternium.