Media Release ·
Become a 'Reef Builder' at World Science Festival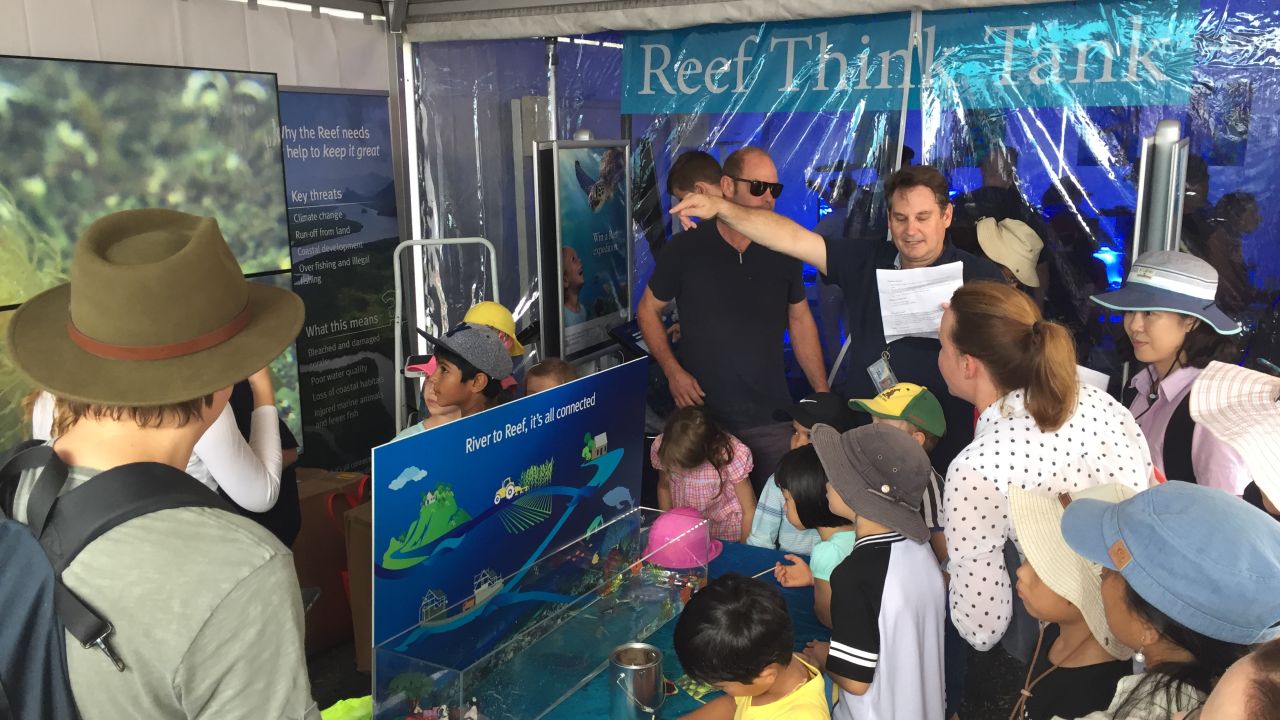 Visitors to the World Science Festival will have the chance to meet the people, projects and marine life working to 'build up' Queensland's own natural wonder, the Great Barrier Reef, and discover what they can do right now to become a 'Reef builder' too.
Great Barrier Reef Foundation Managing Director Anna Marsden said the Great Barrier Reef is one of the seven natural wonders of the world that needs to be protected from threats, including climate change.
"In our fourth consecutive year at Street Science, the Foundation is joining forces with the Queensland Department of Environment and Science as well as Ocean Life Education to present an up-close look at some of the science helping the Reef," Ms Marsden said.
"This year's theme is 'Reef Builders', which will enable visitors to have hands-on encounters with marine creatures, create reef and sea creatures, learn to Love the Reef with interactive games, watch a live demonstration of climate change in action, meet Reef Traditional Owners and rangers working to save a unique marine sanctuary, and learn what they can do to help the Reef right now.
"The Great Barrier Reef is BIG – 70 million football fields big. It is home to over 600 types of coral, 1600 species of fish, 3000 species of mollusc and six of the world's seven species of marine turtle. Plus so much more – below and above the water.
"The 'Reef Builders' event, as part of the World Science Festival Street Science program, will be the first time for many visitors to have the opportunity to meet a few of the wonderful species that call the Great Barrier Reef home including live sea stars. Kids can build LEGO marine life and add it to the Reef wall. They can also build their knowledge about the Great Barrier Reef through an interactive game.
"This is not the only event on the program showcasing the Reef – a range of other events also focus on our natural wonder including two excellent panel discussions and a rare glimpse into hatching Loggerhead turtles."
The Great Barrier Reef experience at World Science Festival includes:
'Our Jewelled Seas: Future-proofing the Great Barrier Reef' panel discussion 21 March, 7pm
One of the signature events of the Festival which looks at the state of the Reef and how science and innovation aims to limit, or even mitigate further damage. This discussion features UQ's renowned Reef expert and GBRF International Scientific Advisory Committee member Professor Ove Hoegh-Guldberg, GBRF Traditional Owner Program Director Liz Wren, GBRF Traditional Owner Working Group member Traceylee Forester and GBRF Traditional Owner Working Group Youth member Gavin Singleton.
'Pioneers in Science Brisbane: Professor Ove Hoegh-Guldberg' 21 March, 11.30am
GBRF International Scientific Advisory Group member and Director of the UQ Global Change Institute and Deputy Director of the Australian Research Council Centre of Excellence for Coral Reef studies Professor Ove Hoegh-Guldberg will feature in this event giving high school students from around the globe access to some of the world's most renowned scientists.
'The Hatchery: Turtle Conservation Experience' – 20-24 March, 9.30am-4.30pm
This popular experience gives visitors a rare glimpse of hatching turtles and highlights the great work of the world-renowned Queensland Turtle Conservation project helping Loggerhead turtles who make the Great Barrier Reef their home.
'The Reef needs us: Saving our national icon' panel discussion 24 March, 1pm
This panel discussion looks at how we can work together to save the Great Barrier Reef. CoralWatch will be on hand during the festival to inform visitors how they can get involved in citizen science.
'Reef Builders' will be live at World Science Festival Street Science on Saturday 23 and Sunday 24 March 2019, 10am to 5pm.
Media contact:
GBRF Sarah Henderson +61 429 890 087 | +61 3171 0403 | shenderson@barrierreef.org
Photos from the Foundation's previous World Science Festival Street Science events are available for media use upon request.