Media Release ·
Microphones to monitor seabird songs and numbers on Raine Island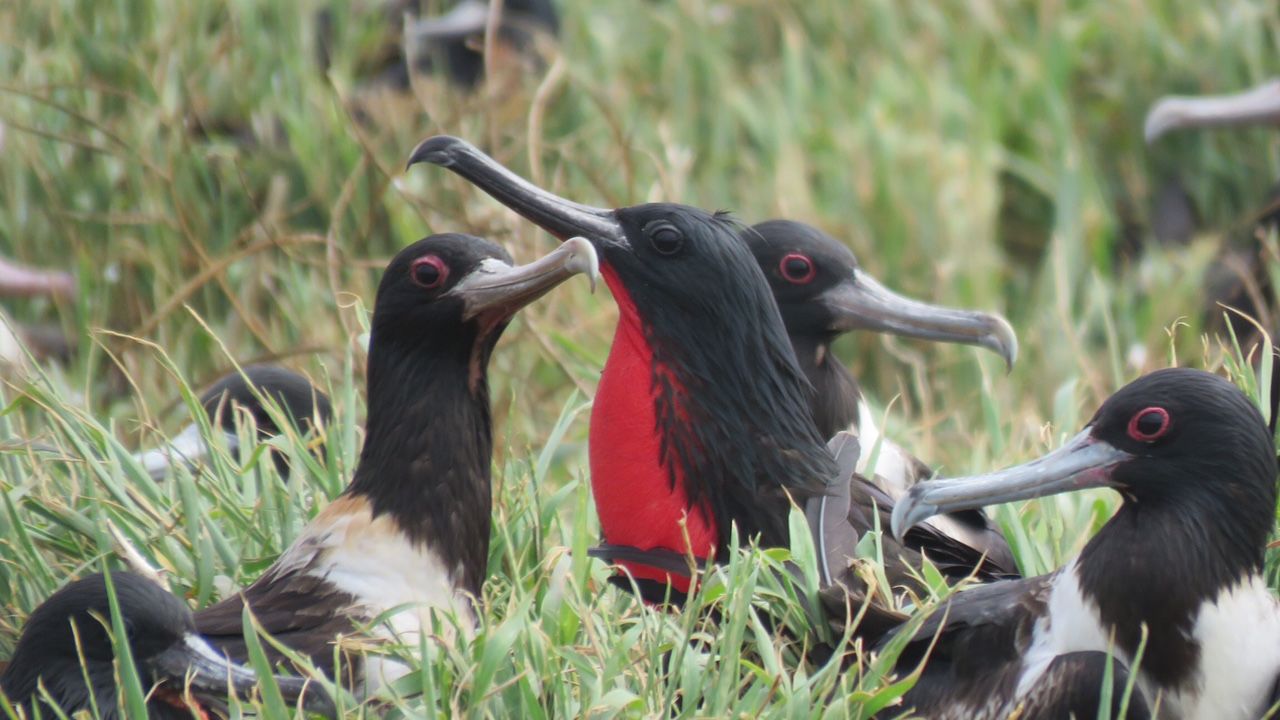 Queensland Parks and Wildlife Service conservation officers will eavesdrop on Raine Island using acoustic sensors and sound recognition software to count thousands of seabirds.
Principal Conservation Officer Dr Graham Hemson said Raine Island is arguably the most important seabird rookery in the Great Barrier Reef World Heritage area as well as supporting the world's largest remaining green turtle nesting population.
"Because of its proximity to deep water, Raine Island supports a unique diversity of seabirds including pelagic species uncommon in Queensland," Dr Hemson said.
"This includes birds like lesser and great frigatebirds and red-tailed tropicbirds. Raine Island is the only Australian site where herald petrels nest.
"To date, 84 bird species have been recorded at Raine Island, including 16 breeding species.
"Installing digital acoustic monitors as part of the Raine Island Recovery Project will help us to discover how many seabirds nest on the island and how successful each breeding season is.
This information will be used to determine the ongoing management of the island for the protection of seabirds.
"Using acoustic monitors is a less intrusive method of counting birds than having rangers going through breeding colonies to estimate numbers.
"This is experimental work but if successful acoustic monitors and sound recognition may provide a more accurate count than physical counts.
"As the density of nests increases so does the amount of seabird vocalisations, which is recorded by the microphones.
"This project could revolutionise the way seabird monitoring is done in the Great Barrier Reef World Heritage Area and around the world."
Dr Hemson said the key species he expected to record are common noddies, masked, brown and red-footed boobies, lesser frigatebirds and sooty terns.
"This project offers an exceptional opportunity to listen in and find out how these important populations are faring," he said.
"Counts of nesting seabirds will also be made by observers and drones, which will be used to validate the relationship between the acoustic signals and actual density of nesting birds.
"Establishing when seabirds arrive and complete their breeding cycle will also help us to protect the seabirds on Raine Island.
"Queensland Parks and Wildlife Service and Conservation Metrics are breaking new ground with this research method."
The Raine Island Recovery Project is a five year, $7.95M collaboration between BHP, the Queensland Government, the Great Barrier Reef Marine Park Authority, Wuthathi and Kemer Kemer Meriam Nation (Ugar, Mer, Erub) Traditional Owners and the Great Barrier Reef Foundation.
Conservation Metrics is a US based company specialising in using technology to monitor wildlife status, distribution and population trends.