Media Release ·
Using Traditional knowledge to save the Reef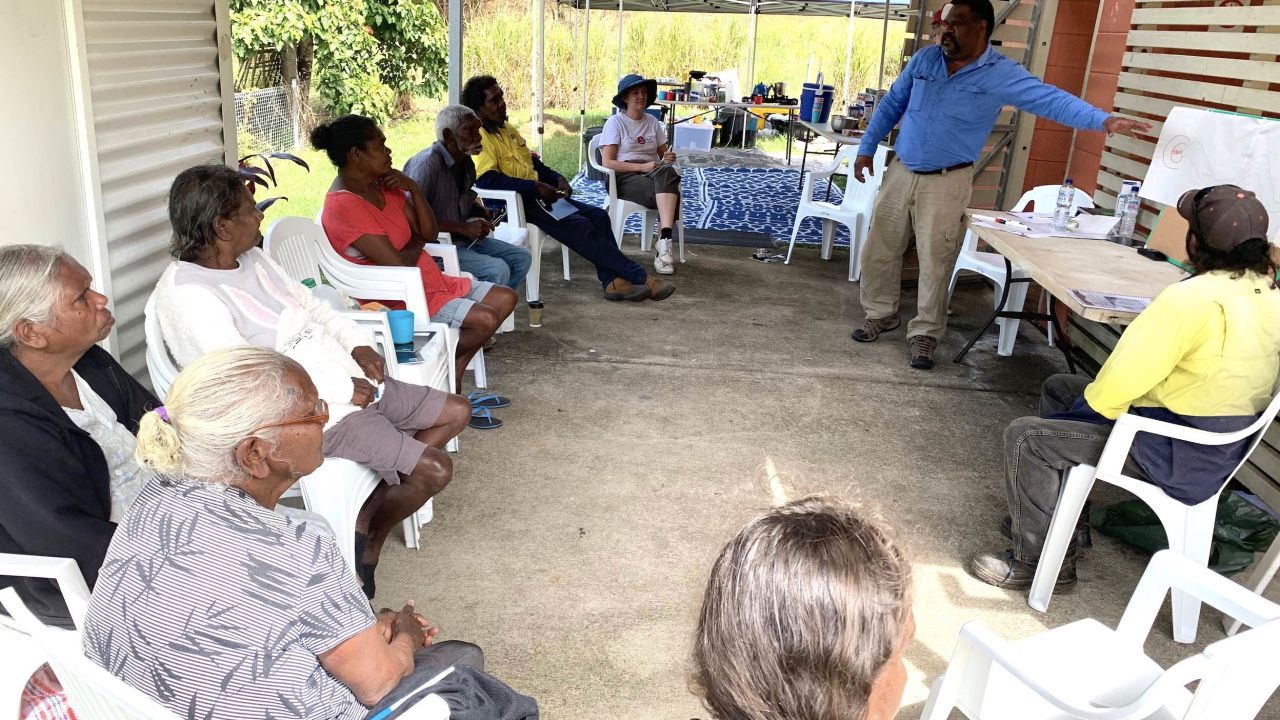 Photo caption: Peer-to-peer Indigenous Knowledge sharing at a Dabu Jajikal planning workshop
The Great Barrier Reef Foundation is placing Traditional knowledge at the centre of efforts to save our irreplaceable ecosystem.
Great Barrier Reef Foundation managing director Anna Marsden says the Reef's Traditional Owners have rich, ongoing connections, rights and aspirations in Land and Sea Country and have been caring for it for thousands of years.
"Our Reef and its marine life are facing a growing combination of threats but together we're already making an impact," Ms Marsden says.
"We've co-designed Australia's largest Traditional Owner-led Reef protection program and together we're proud to be starting 25 on-ground projects that'll improve the quality of water flowing to our Reef, control crown-of-thorns starfish outbreaks, monitor Reef health and restore recently damaged reefs."
These Traditional Owner-led projects are just some of the more than 100 Reef-saving projects the Foundation and its partners are delivering right now.
Great Barrier Reef Foundation Traditional Owner partnerships director Liz Wren says Traditional Owners are looking for meaningful and authentic partnerships.
"We're proud to be listening and working closely with Traditional Owners to create a program that meets the needs of both the Reef and its First Peoples. This is an incredible opportunity to tackle transformative co-design in an authentic and genuine way," Ms Wren says.
New projects include the training and employment of Traditional Owners on Mungalla Station near Ingham to support wetland restoration and rejuvenation.

Nywaigi Traditional Owner and chairperson of Mungalla Aboriginal Corporation for Business Scott Anderson says: "This will be the first time we get the opportunity to develop and grow our own capabilities and capacities in the area of water quality to improve the natural habitat and function of the Mungalla Wetlands."
Minister for the Environment Sussan Ley says this is about empowering the Traditional Owner groups who manage Land and Sea Country, preserving ancient knowledge and supporting targeted on-country activities to protect the Reef.
Special Envoy for the Great Barrier Reef, Warren Entsch, says these projects recognise the depth of First Nations peoples' spiritual and cultural knowledge and connection to Country, which is highly valuable.
"The new grants build on other Reef Trust projects that have provided support for junior ranger programs, to develop Sea Country plans, and to implement existing Land and Sea Country plans."
These projects are funded through the Great Barrier Reef Foundation's partnership with the Australian Government's Reef Trust.
Find out more about these projects here.