Project News ·
Healthy soils for healthy waters: next-gen cane farmers gain new knowledge for sustainability
Generations of farmers are accessing support to drive productive, financially and environmentally sustainable farming systems to help improve on-farm soil health and water quality flowing to the Great Barrier Reef.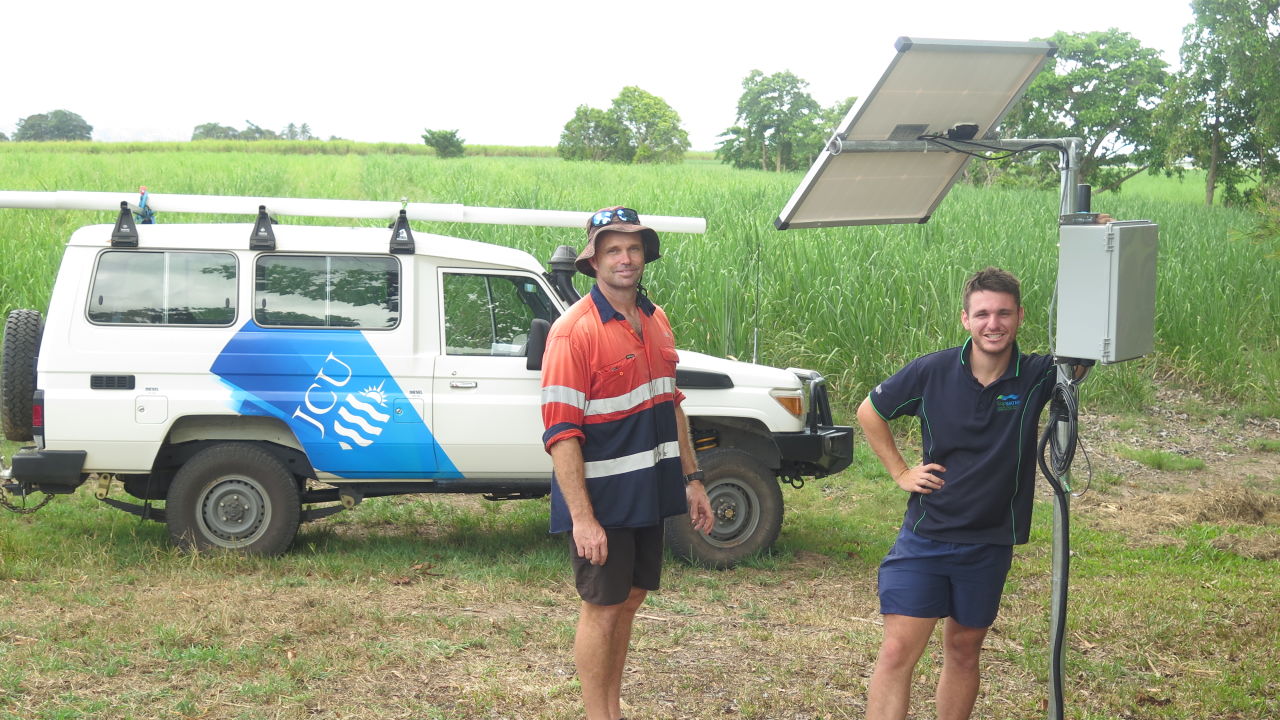 Healthy soils are critical for high quality sugar cane crops and long-term farming potential. They regulate water, cycle nutrients, sustain plant and animal life, and filter and buffer potential pollutants. Plants rely on good biological soil health to grow and thrive, meaning the presence of microbes, fungi, and other plants and animals that live in the soil are vital. Many factors threaten soil health, including erosion, pollution, and over-cultivation, as well as overapplication, improper timing, or incorrect placement of fertiliser.
Soil health is important to water quality. Healthy soils act as a sponge, absorbing larger amounts of rainwater. When soils are able to retain more water, there is less chance of runoff from paddocks. Soil health-promoting practices are valuable tools that help reduce nutrient losses through surface runoff and leaching.
Funded through the Australian Government's Reef Trust and the Great Barrier Reef Foundation and delivered by Herbert Cane Productivity Services Ltd (HCPSL), Project CaNE™ uses novel and innovative extension approaches to incorporate soil health and water quality outcomes when working with farmers in the Herbert region.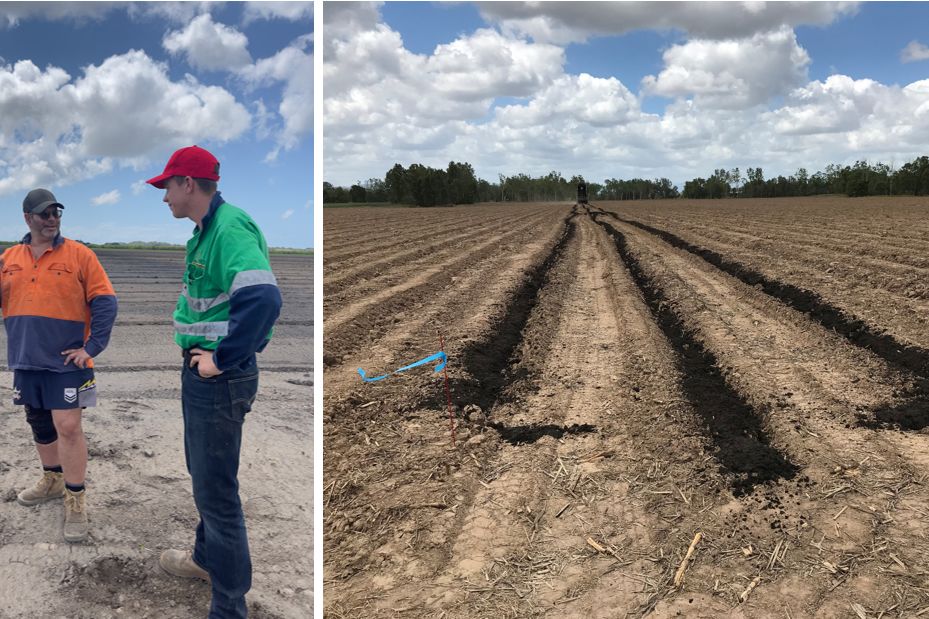 HCPSL agronomist Bailey Kilpatrick discusses soil with grower Andrew Irving. Andrew is using strategically applied mill by-products to selected blocks on his farm to improve his organic carbon levels and the soil structure. Credit: HCPSL.
Through this project, farmers are supported to undertake management practice changes. These lead to a reduction in the amount of dissolved inorganic nitrogen (DIN) being exported from the farm into freshwater and marine ecosystems within the lower Herbert Catchment area, while maintaining cane productivity. The impacts of these changes are tracked throughout the catchment area by the James Cook University TropWater water quality monitoring program.
In the Central Herbert subdistrict of the Herbert sugarcane growing region, Andrew Irvin recently took over farming operations from his father John. Andrew became involved in Project CaNE™ to assess the potential benefits of applying mill by-products to improve his biological soil health.
"Looking after soil health is very important. In my lifetime I have seen degradation here on the family farm just through lack of knowledge. The training courses and information we are getting out of Project CaNE™ are helping us to understand our soil better."
Andrew is using strategically applied mill by-products to selected blocks on his farm to improve his organic carbon levels and the soil structure. Greater soil carbon enhances nutrient cycling and increases soil's fertility.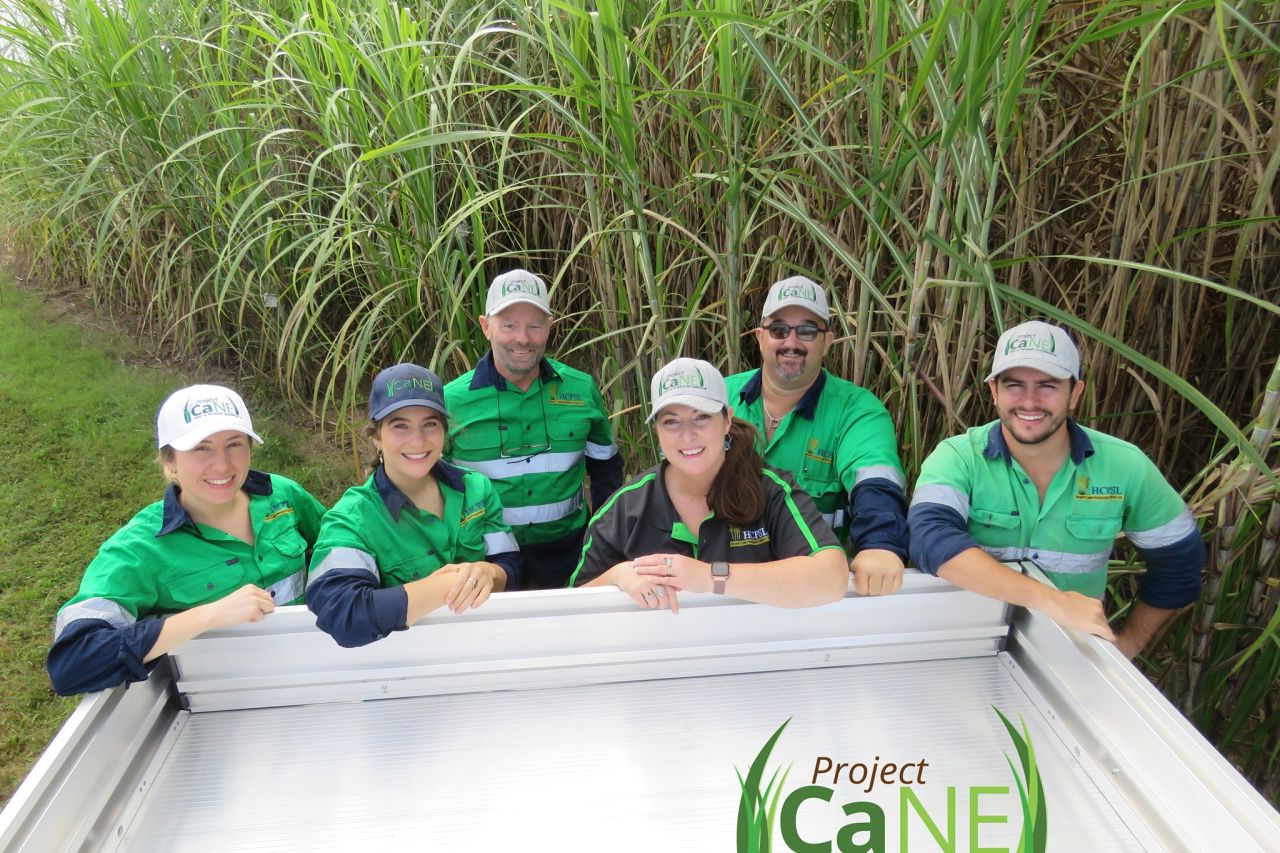 Project CaNE (HCPSL TEAM pictured) works with farmers to drive productive, financially, and environmentally sustainable farming systems. Credit: HCPSL.
Andrew aims to expand his soil nutrient and water holding capacity, which will lead to improvements in productivity and profitability. It will also reduce his fertiliser use and potential losses that impact on the quality of water leaving the farm and entering local waters.
At Abergowrie in the Herbert district, third-generation farmer Greg Erkkila is farming about 400 hectares of sugarcane. Greg has seen a broad range of seasonal and farming conditions in his lifetime and wanted to provide a fresh perspective on cane farming for the next generation returning to the farm.
After completing a heavy vehicle mechanics apprenticeship in Ingham, his son Todd Erkkila started farming full time in April 2021, which coincided with the opportunity to access support through Project CaNE™. Greg said that getting involved presented a valuable chance for Todd to hear a range of perspectives on productivity, profitability, and sustainability from a trusted third-party.
"There is more to farming now than driving tractors up and down drills," Greg said. "You have to be a lawyer, accountant, stockbroker and a computer programmer, while constantly being aware of your environmental footprint."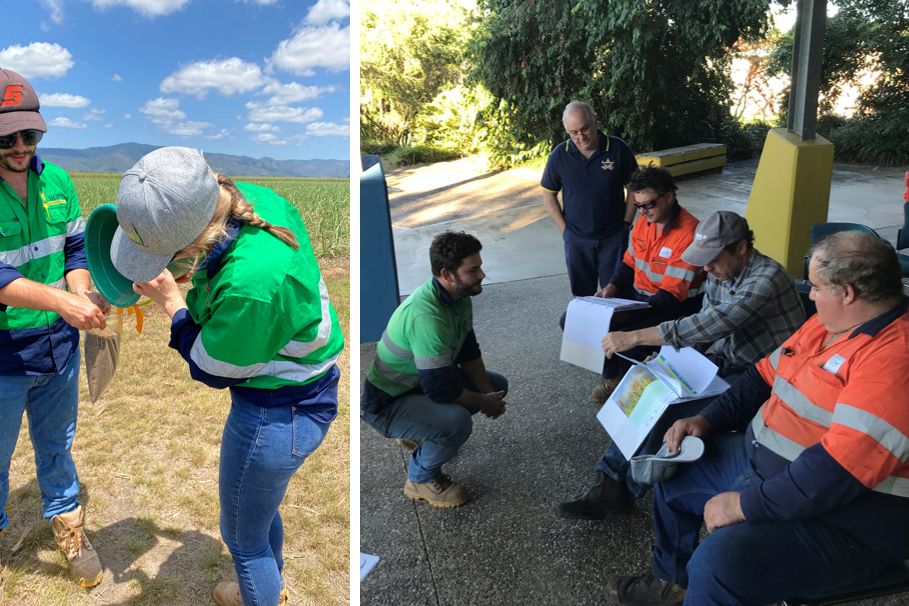 Left: HCPSL extension agronomists Jarrod Sartor and Ellie McVeigh take soil samples on farm. Right: Nutrient management planning with HCPSL extension agronomist Jarrod SartorCredit: HCPSL.
Greg shared it was valuable to sit down with the HCPSL agronomist and talk about all the things that link together on the farm. "We know soil sampling is important, as well as matching our nutrient plans to the soil type, but through this project we can see the whole picture and put things into practice in the paddock."
Soil health is measured through chemical, physical and biological characteristics. Physical and chemical soil constraints can be improved by applying ameliorants (gypsum, lime), reducing compaction, reducing tillage, direct drill planting, and promoting soil fungi. Biological soil health can be quickly improved by increasing the amount of organic material in the soil through mill mud, cane trash, fallow crop residues or green manure. When calculated properly and applied correctly, fertilisers can foster sustainable soil health.
"For me, the process was a continuation of the work I had done with becoming Smartcane BMP accredited," said Greg.
On completion of core modules, Smartcane BMP provides Queensland cane growers with independent recognition and accreditation for their management of soil health and nutrients, irrigation and drainage, and weeds, pests and diseases.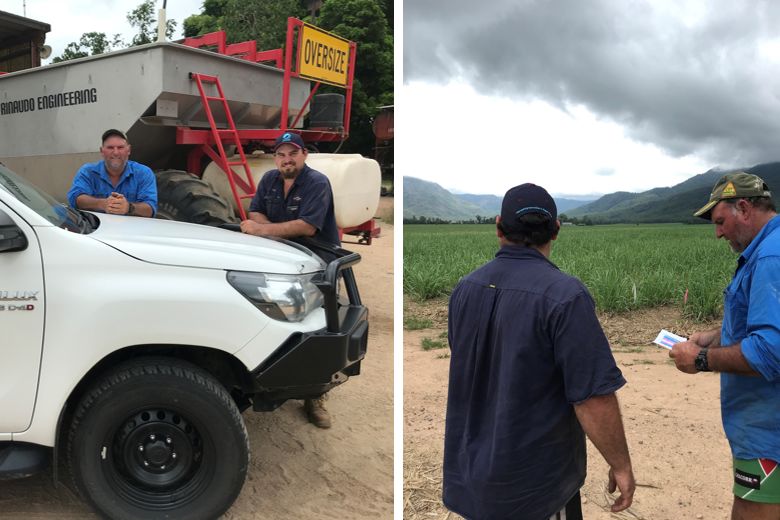 Lower Herbert Growers Greg and Todd Erkkila review nutrient management plan. Credit: HCPSL.
Greg said it is great to get confirmation that farmers are doing the right thing for the environment. "Getting involved in this program shows that it has been worthwhile. If you're established in the industry, it can be valuable to check where you are at, and if you are new and want to learn more, then it is perfect for that too," he said.
"We love the Reef and want to do everything in our power to make sure we sustain it for generations to come," said Greg.
Though Project CaNE™, 170 growers in the lower Herbert region have developed nutrient management plans across 16,051 hectares of cane farming land. Thirteen demonstration sites have been established to showcase best practices on-farm and farmers have benefited from new knowledge gained through the attendance of over 350 participants at workshops and field days. The project has resulted in a significant reduction in DIN entering the local waterways and making its way to the Great Barrier Reef.