Explainers ·
What is coral aquaculture?
What it is, why we do it, and how it's helping to protect our Reef.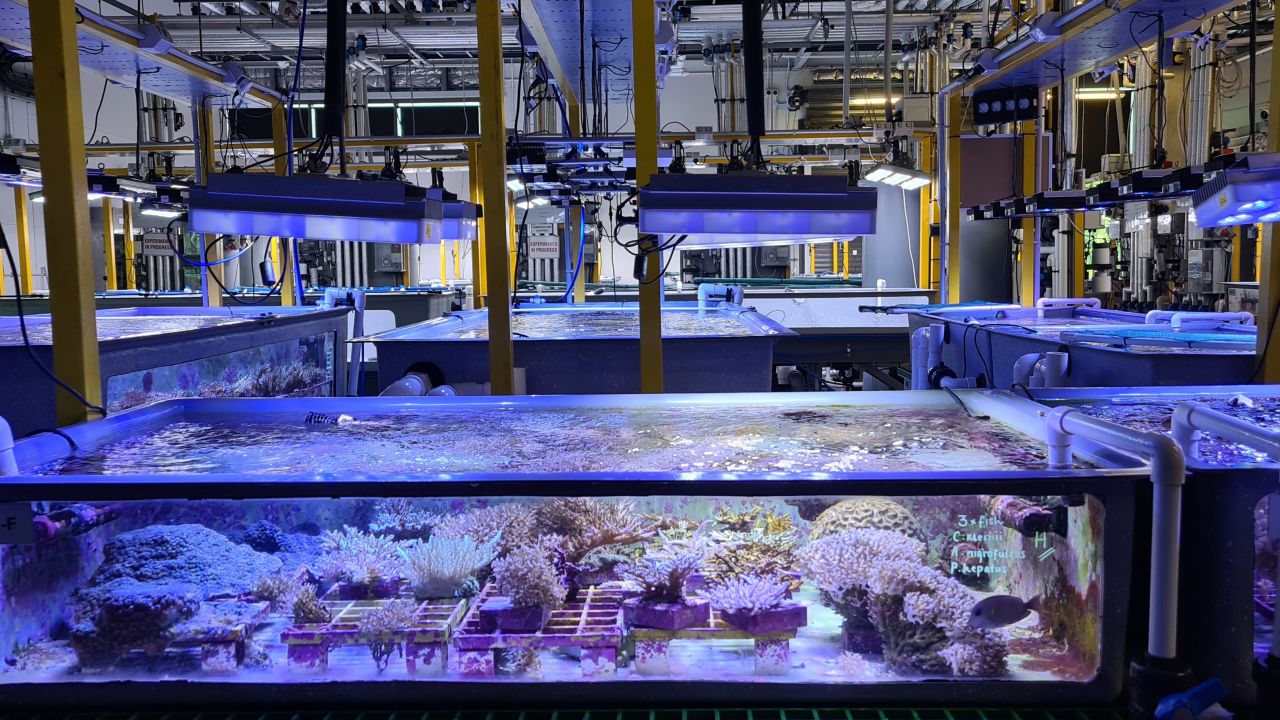 Coral aquaculture is the process of raising large numbers of healthy corals in a specialised aquarium by replicating natural coral reproduction and growth.
Once a year, wild corals reproduce en masse. Corals send enormous quantities of eggs and sperm into the water column, where the eggs are fertilised, turn into larvae and settle onto the seafloor.
This process, known as spawning, can be replicated in aquarium settings with adult corals that have been collected from the Reef, or corals that have been raised from 'birth' in tanks on land.
Reef researchers wait for these corals to spawn and then collect and cultivate large numbers of larvae and baby corals in a process known as propagation.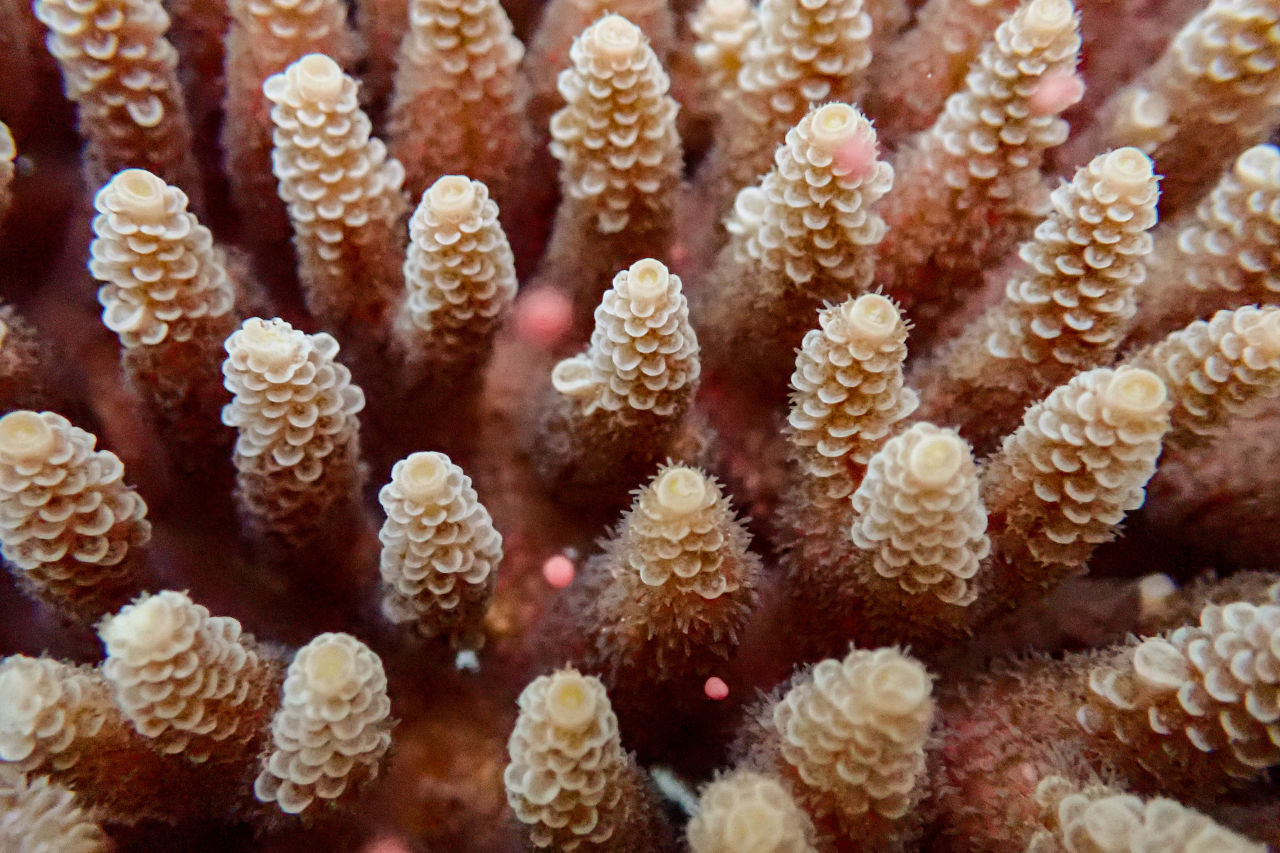 Coral spawning in the National Sea Simulator. Credit: Carly Randall, AIMS
#How is coral aquaculture used on the Reef?
Aquaculture helps Reef researchers reduce their reliance on 'one-night-only' wild spawning events, as well as the time spent underwater observing and monitoring corals.
By propagating corals in aquaculture, we can control conditions and thereby fast-track our understanding of factors that impact coral survival and growth, and how to help corals better cope with increased seawater temperatures.
Researchers use larval and juvenile corals in experiments to improve our understanding of how to increase their temperature tolerance, the influence of special probiotic diets and which conditions encourage coral larvae to settle and grow on the Reef.
Scientists are also experimenting with ways to increase the number of heat-tolerant corals on the Reef, by first settling them onto devices designed to enhance their survival and growth in the wild, then transporting them onto the Reef.
By perfecting and scaling up these aquaculture techniques, we can increase the number of 'captive-born' heat-tolerant young corals, for potential release onto large areas of degraded reefs in the future.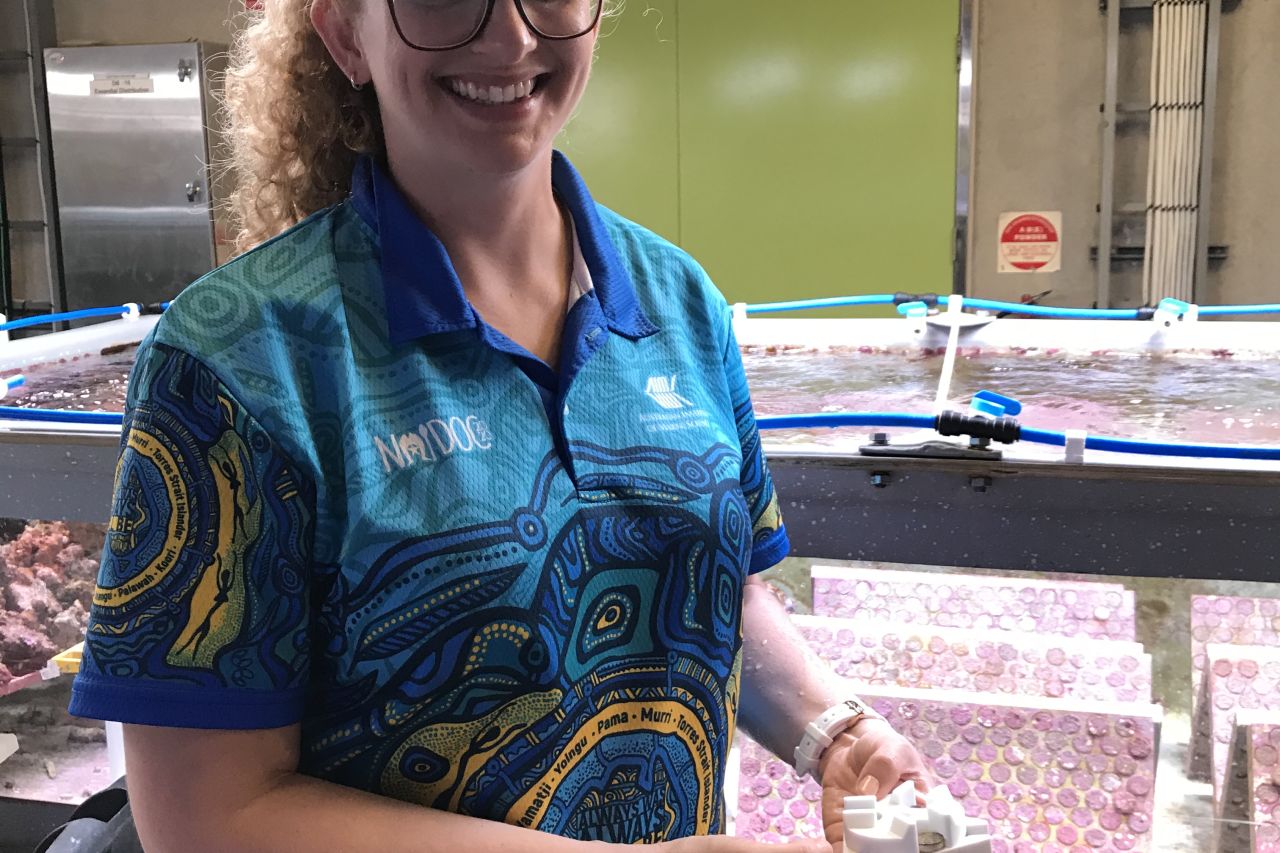 Ecologist Dr Carly Randall, AIMS, with a specially designed device to settle and grow coral.
Climate change is the biggest threat to the future of the Great Barrier Reef and coral reefs around the world. Ocean temperatures are continuing to rise and corals are struggling to recover and adapt fast enough to survive, so boosting coral resilience in the face of climate change stress is necessary.
Coral aquaculture has the capacity to help with this by increasing the numbers of healthy, heat-tolerant corals on the Reef, but it's still in the early stages of development.
That's why investing in coral aquaculture research and development, as part of the Reef Restoration and Adaptation Program, is so important. The program is the world's largest effort to help a significant ecosystem survive climate change, with aquaculture research being led by the Australian Institute of Marine Science at their specially designed facility, the National Sea Simulator in Townsville.