News ·
The irrigation innovation making waves for farmers and the Reef
Queensland farmers are harnessing innovative technology to better manage water, time and resources, all while helping improve water quality on the Great Barrier Reef.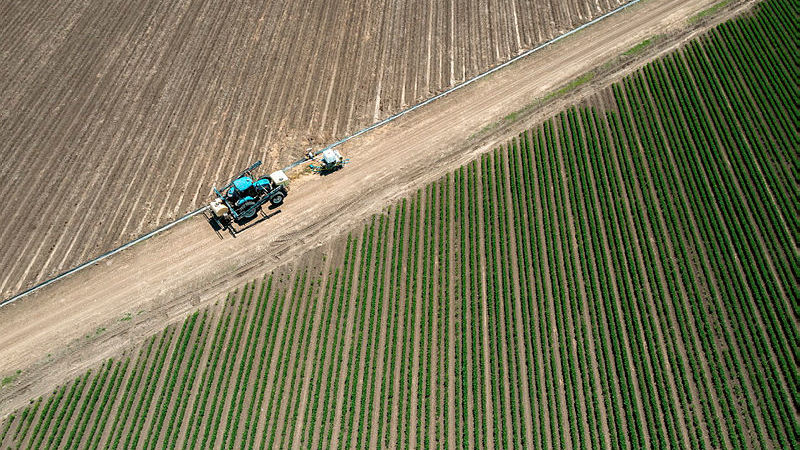 Water lies at the very heart of farming. It's the lifeblood that sustains crops and maximises growers' harvests. Farmers are in a constant battle to give their crops enough water when they need it, while trying to waste as little of it as possible. Striking that balance can be all-consuming, but now innovative technology is helping Queensland's sugarcane farmers harness water more efficiently.
The Burdekin region, which sits between Townsville and Bowen in North Queensland's Dry Tropics, is the highest sugarcane producing region in Australia. It thrives on high sunlight, low rainfall and reliable water supply to fuel irrigation systems. It's also the second largest catchment that flows out to the Great Barrier Reef.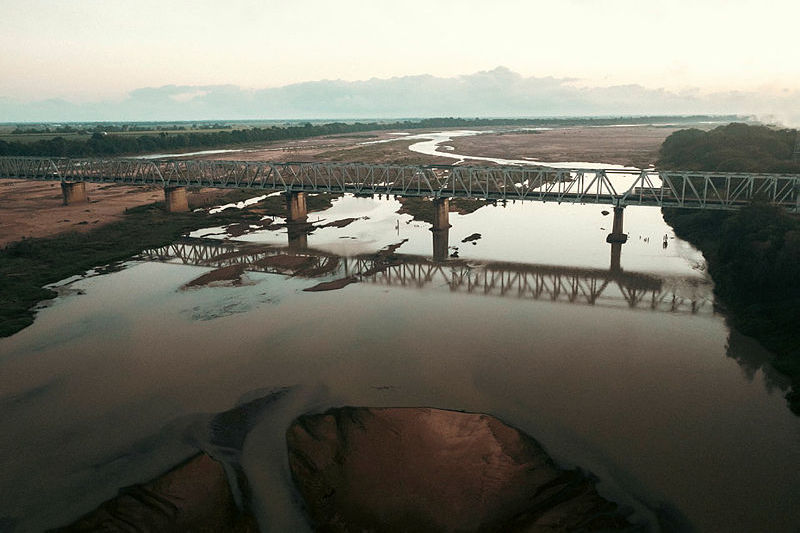 The Burdekin River. Credit: Emvielle Photography.
Sugarcane paddocks in this region have traditionally used manual irrigation systems with pumps that require farmers to activate them or gravity-fed channels that supply water to the farm. Both require valves to be turned on and off, including overnight and on weekends. Farmers have many competing priorities and it can be challenging to irrigate at the most optimal times.
As well as being disruptive to daily life, this method gives little control or visibility over the exact amount of water entering their fields. This is not only costly for farmers but also increases the volume of pollutants, including pesticides, fertilisers and sediment, that runs off the land and into waterways that flow out to the Reef.
To prevent these pollutants from reaching the Reef, we're investing in projects that help farmers implement better irrigation management practices. The Burdekin Irrigation Project, funded by the partnership between the Australian Government's Reef Trust and the Great Barrier Reef Foundation, is aiming to do just that: help sugarcane farmers transition to more efficient, automated irrigation to reduce costs and improve productivity and profitability, while also reducing farm runoff.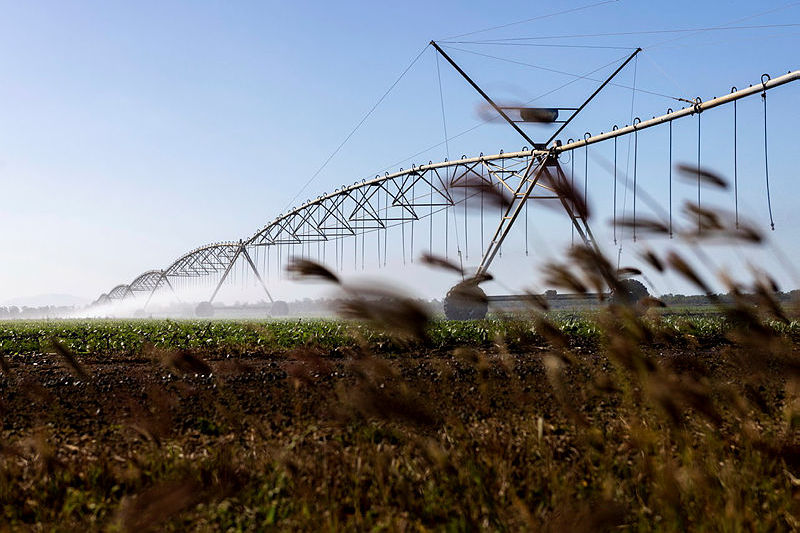 A centre pivot irrigation system in action. Credit: Emvielle Photography.
Irrigation systems come in many forms. Furrows are irrigation channels placed between rows of crops, overhead systems use sprinklers to water from above, while drip irrigation, also known as trickle tape, delivers slow drops of water directly to plants' roots via tubes.
By automating these systems farmers can easily plan, manage and maintain their crop irrigation online through websites and apps.
'We've noticeably reduced our water use.'
Paul Villis is a progressive-thinking farmer in the Burdekin and has recently installed an overhead irrigation system which is connected to an app that helps him track and schedule his water use.
"We have noticeably reduced the amount of water that we would normally use from our water allocation and we used to use it all," Paul says.
"I've got an app on my phone and I can see what's going on wherever I am. I push the button and it's irrigating. You can monitor everything that's going on from your phone all the time and there's minimal runoff."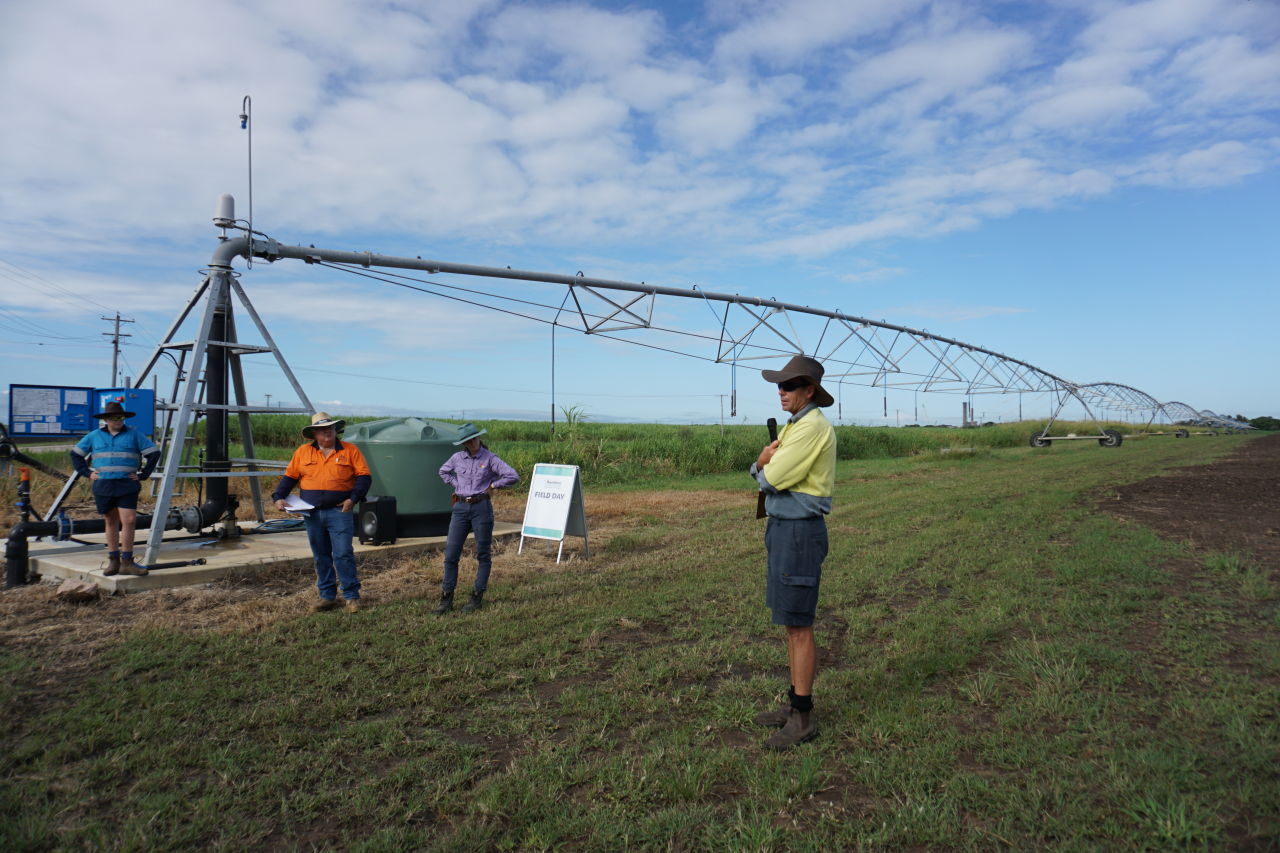 Paul Villis talks about the benefits of this newly-installed overhead irrigation system.
'We've made our money back already.'
Joe and Aaron Linton have also switched to web-based apps to fully automate the irrigation on their farms, with trickle tape installed throughout their sugarcane paddocks. They have also set up timers to irrigate during lower energy tariff hours.
When asked about the benefits of these new systems, Aaron jokes: "It's probably made me complacent because it's so reliable that it's not something I put any time into anymore. It's just happening in the background."
"With flood irrigation you're out there in the paddocks, checking the drills and opening the outlets. Whereas now it just happens. I can spend my time doing other things I need to do that make more money, not doing the mundane things. It costs a bit of money to set up, but I know we've got that money back already."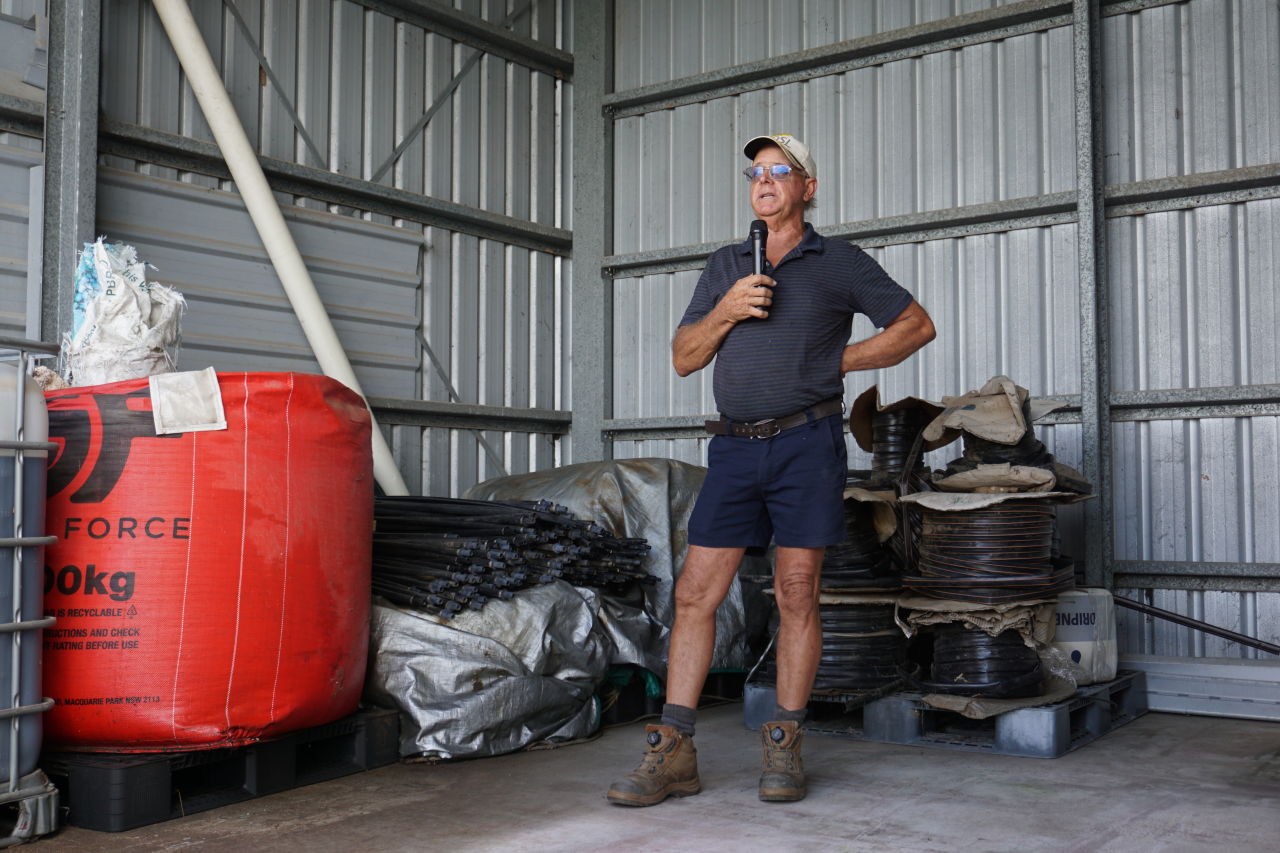 Joe Linton shares his experience with the installation of trickle tape on his paddocks.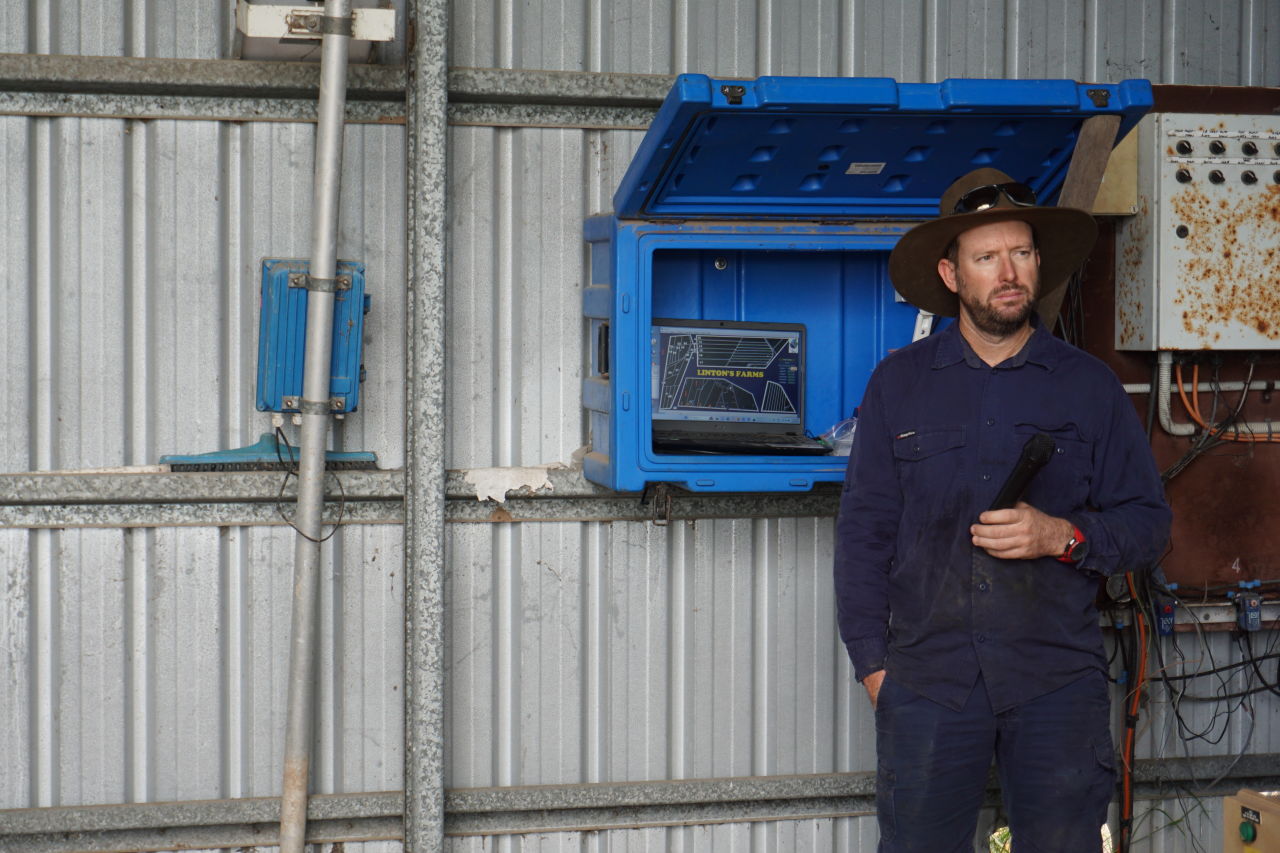 Aaron Linton showcases the computer system he uses to automate the irrigation on his farm.
'I no longer have to run around like a mad man at night.'
Steve Pilla, another sugarcane farmer participating in the Burdekin Irrigation Project, says his new automated system has put an end to late-night trips to the fields to change water pumps or valves.
"Previously I had to start the pumps at 6am, then change them at 2pm and 10pm," he says.
"If you're a little late on your scheduling, it might have been pushed to 11pm, then that would take you to midnight the next night. I'd be out there at 1am or 2am sometimes changing sets of pumps."
With his new automated system, Steve and his family members can manage things from the comfort of their home—or even while on holiday.
"During the night if it starts raining, I'll open up the app on my phone and have a look," he says.
If they've only had a few millimeters of rain, Steve will keep the pumps running.
"I'll get up in the morning and have a look at the gauges again while having breakfast."
If they've had more rain, he can shut the system down remotely.
"I don't have to travel around the farm to do it anymore," he says. "The technology saves me time, saves me labour, energy, the lot. It's just full-on savings. I'm not running the pumps as long. I'm actually running them less than when I used to run around like a mad man at night-time. And it's doing it for me. I don't have to think about it. It will send me a notice if something is wrong. The irrigation is happening during the night and I can be off doing other things."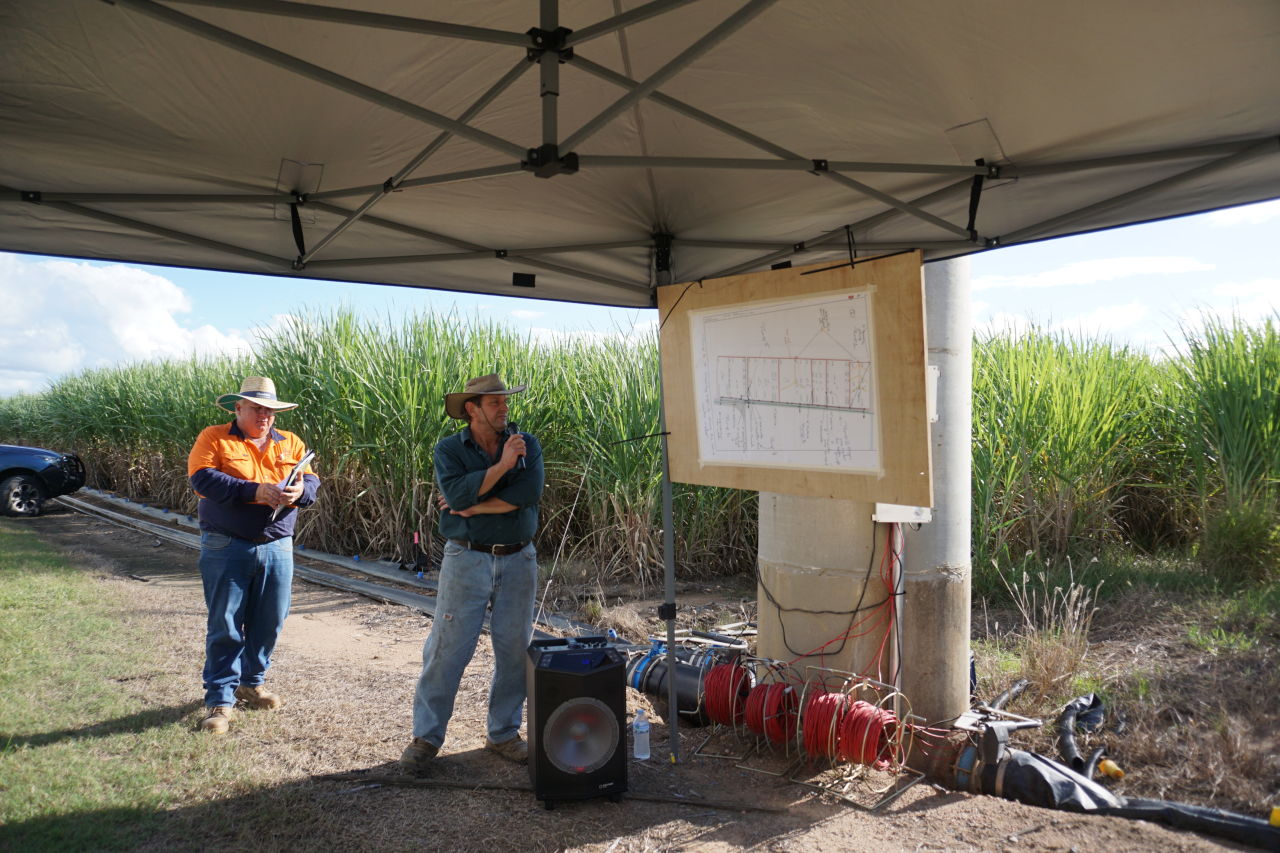 Terry Granshaw of Sugar Research Australia (left) and Steve Pilla (right) showcase the innovations they've made to automate irrigation across paddocks.
These farmers are now huge advocates for automated irrigation systems.
Steve's advice for other growers?
"If you really want to make changes, as far as irrigation efficiency, you've got to take the next step towards automation. Do you have to do your whole farm? No, but start off somewhere and you'll see the savings coming back to you," he says.
"It is an initial investment but return on investment is what I'm looking at, and I know that within two years I'll get it back, if not sooner," he says.
This is a dynamic space with so much potential for change. While there is still a lot of work to be done, seeing the strides that farmers like Paul, Joe, Aaron and Steve have made is a great sign of what's to come.
With the ongoing support of the Burdekin Irrigation Project and their partners, growers across the Burdekin will continue implementing sustainable solutions that benefit their farms and the Great Barrier Reef.