People of the Reef ·
Katharina Fabricius: 'What we are learning on our Reef can help to protect all reefs'
In a career spanning 35 years, ecologist, and Senior Principal Research Scientist Katharina Fabricius, from the Australian Institute of Marine Science, has made it her business to uncover the secret wonders of coral reefs. Her journey is far from over. She knows that knowledge is power – what we continue to learn and discover about reefs holds the key to their protection.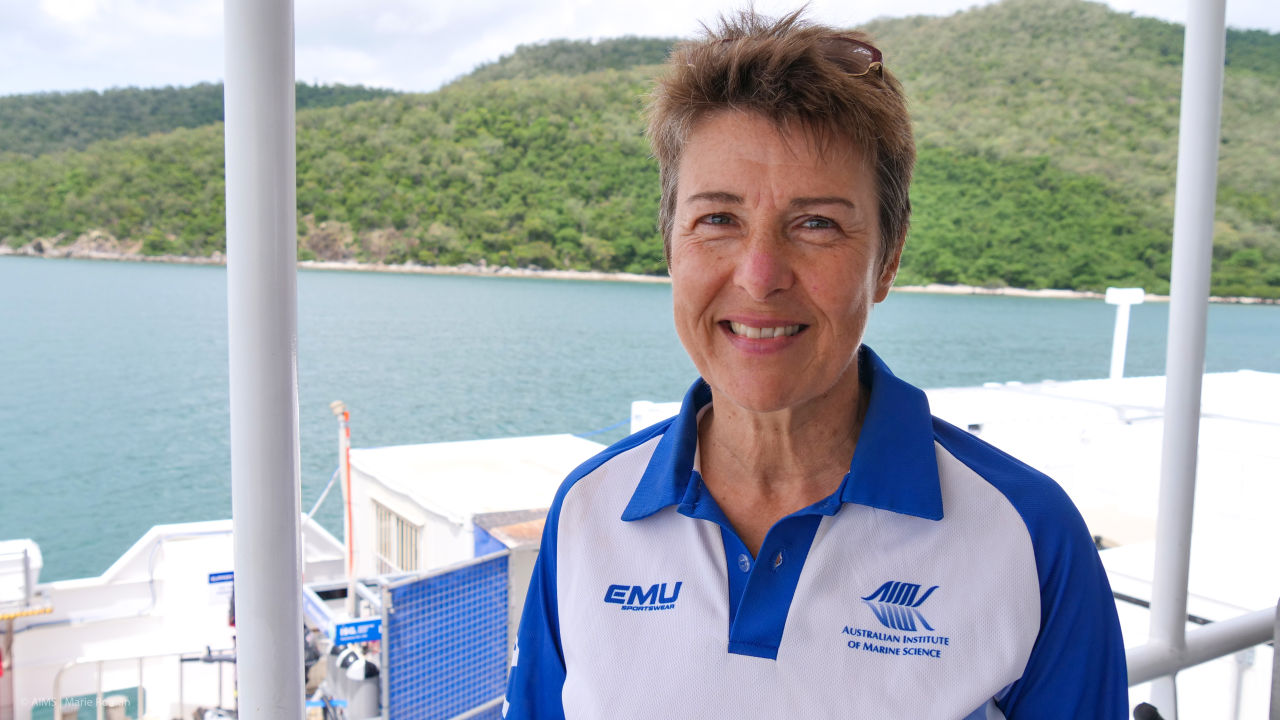 Sitting quietly side by side on the Reef, soft and hard coral cousins live strangely separate lives. One is a gentle vegetarian, the other mostly a voracious carnivore. One anchors from a plant-like stalk, the other stands with the strength of its stony skeleton. Their differences help form the foundations of our colorful and diverse Reef, and yet, together, they share an uncertain future.
"They occupy totally different niches in the ecosystem, but they both suffer from the impacts of marine heat waves, storms and climate change," says Katharina.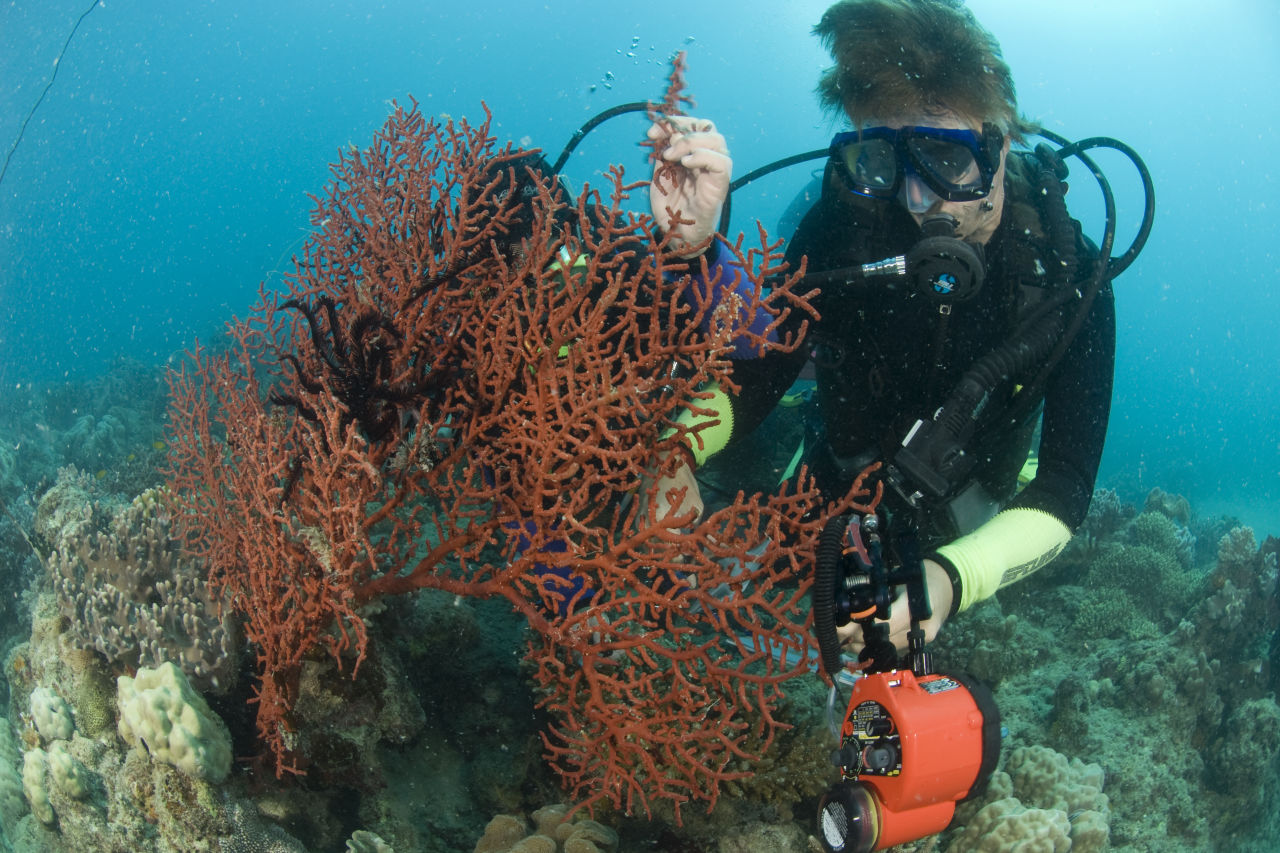 Katharina collecting an octocoral fragment, during a reef survey at Lizard Island. Credit: Juergen Freund
Katharina quite literally wrote the book on soft corals and sea fans – discovering that they are vegetarians - and has studied the environmental impacts on coral reefs for the last 30 years. She knows that the unique superpowers of corals can also be their kryptonite. "Because corals are so highly efficient and specialised, their competitive advantage is easily lost from changes in their environment – like increased temperature, nutrients from runoff, or acidification."
Thankfully, Katharina's knowledge and drive to understand corals and reef ecosystems is also helping to protect them. "I totally love coral reefs, they are one of the most fascinating, diverse, beautiful, and intriguing ecosystems. Being able to contribute to giving the Reef a better chance under rapid climate change and intensifying pressures is very rewarding for me," she says.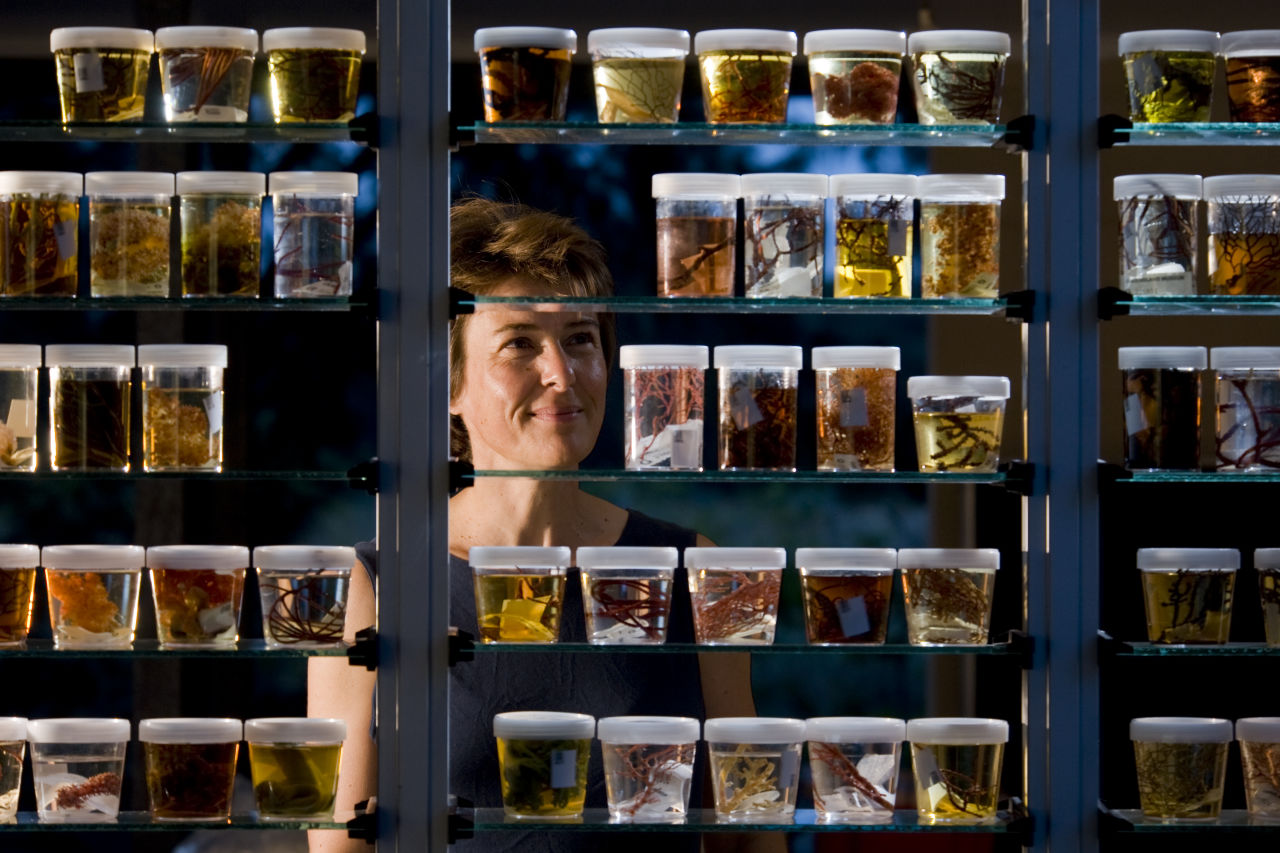 Katharina with samples of octocorals (soft corals) collected for the Queensland Museum. Credit: Juergen Freund
Katharina currently co-leads a specialised research team who are seeking to understand the secrets of natural reef recovery as part of the Reef Restoration and Adaptation Program. The Program itself is building a toolkit of reef protection solutions and knowing where and when to deploy these solutions is critical. That's where Katharina's team can help. By understanding how nature is already equipped for reef recovery the Program can choose the best times and places to deploy, so that natural processes are supported and enhanced. The knowledge can also help to identify situations where solutions are not needed at all.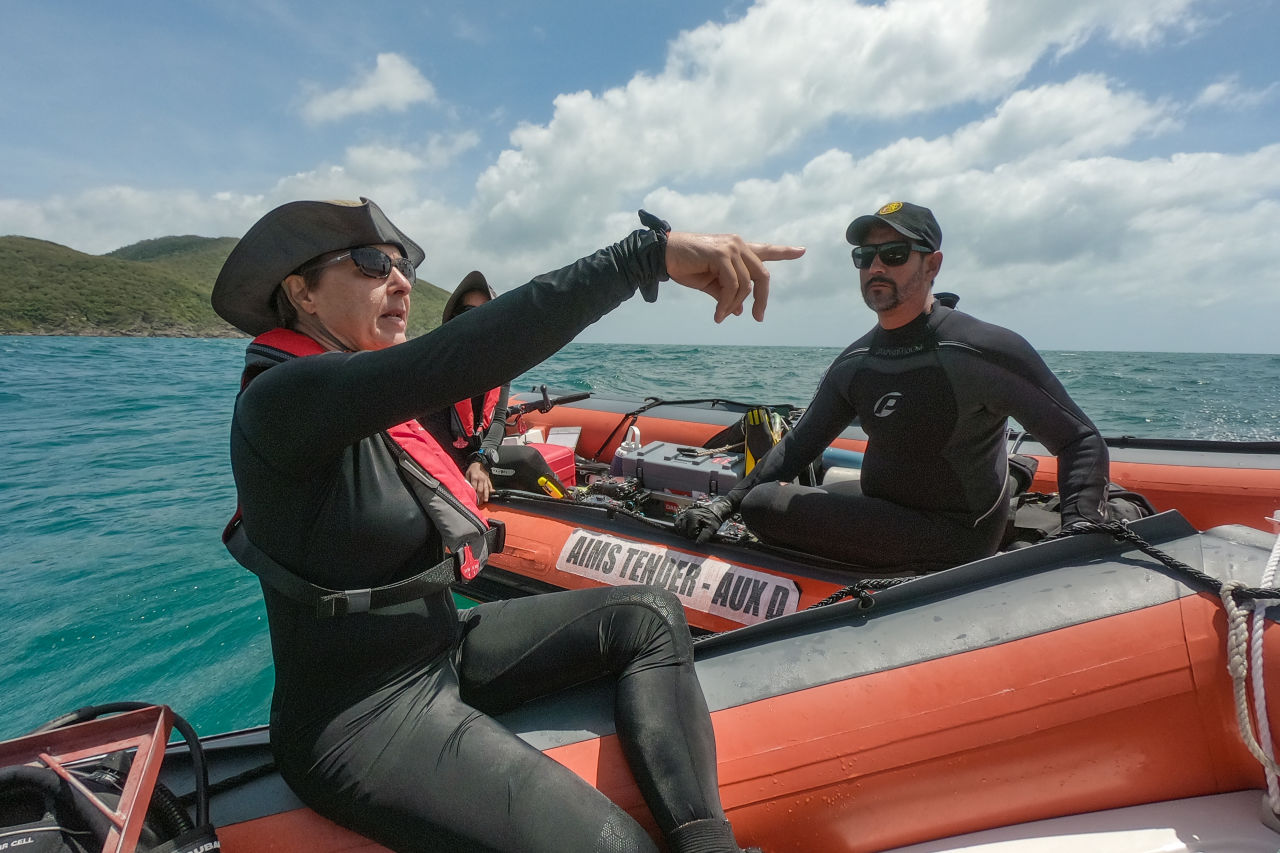 Katharina preparing to dive and monitor a site on the Great Barrier Reef, with the Reef Restoration and Adaptation Program team. Credit: Ian McLeod, AIMS
It's a new facet to a constantly evolving career that has seen Katharina work and share her expertise across our Reef and beyond, conducting research on Red Sea corals in Israel and working alongside colleagues in the Middle East. She has spent a decade investigating the effects of ocean acidification – caused by elevated levels of carbon dioxide – which saw her deep dive into Papua New Guinean reefs, some of which grow near volcanic seeps that have locally elevated carbon dioxide levels. A further ten years has been dedicated to understanding the effects of water quality on coral reefs. During this time, she witnessed a shift in public perception, from skepticism to wide-spread acceptance about the strong link between land and sea.
"What we do on land profoundly affects the capacity of coral reefs to recover from disturbances. That's why ongoing investment into water quality improvement is so important," Katharina says.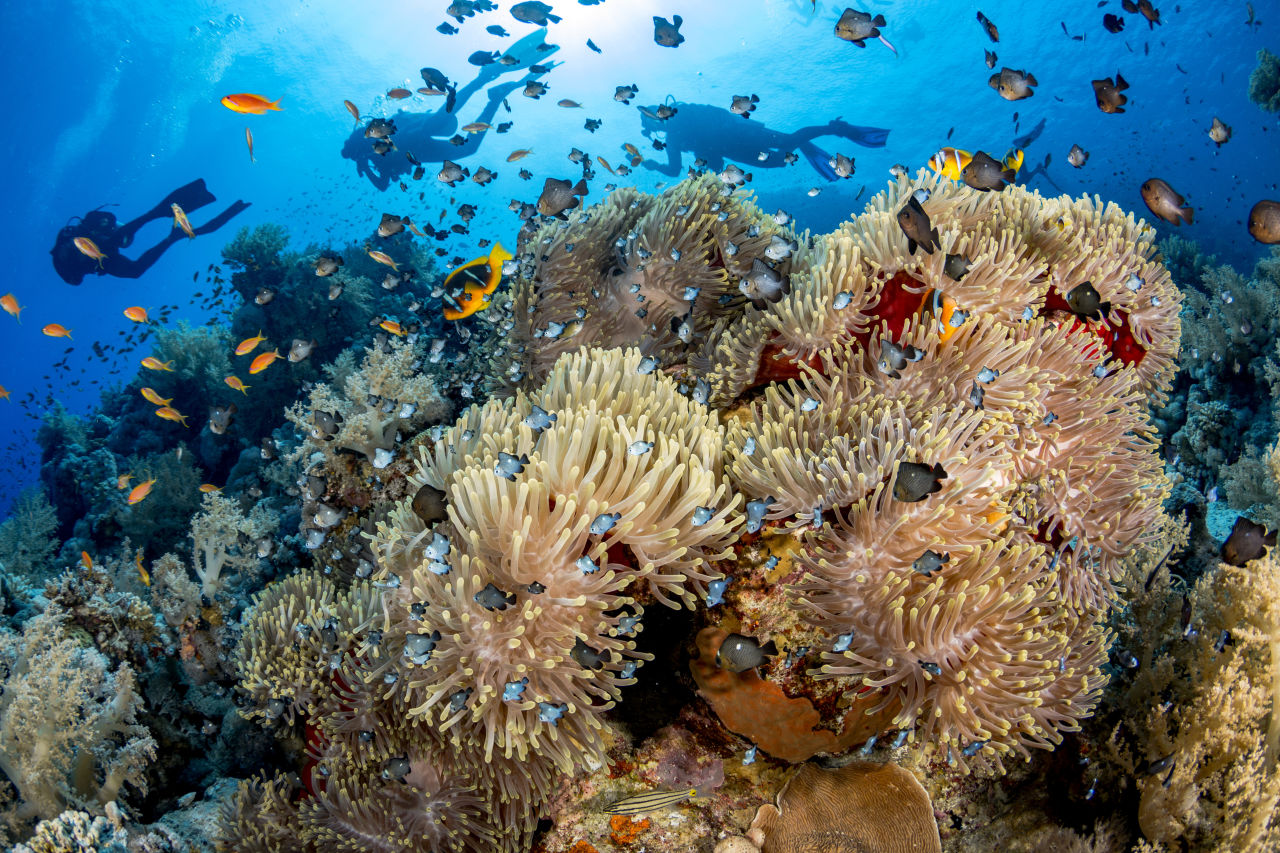 Katharina has conducted research across the globe, including the spectacular Red Sea reefs. Credit: Renata Romeo, Ocean Image Bank
It is connectivity that has also always called Katharina back home to the Great Barrer Reef. As the largest and best managed contiguous reef ecosystem in the world, with over 2,000 highly connected reefs, each can help others recover if some get damaged. "With appropriate protection and support, and active restoration efforts, our Reef stands a better chance to continue to flourish than almost all other reef systems in the world," she says.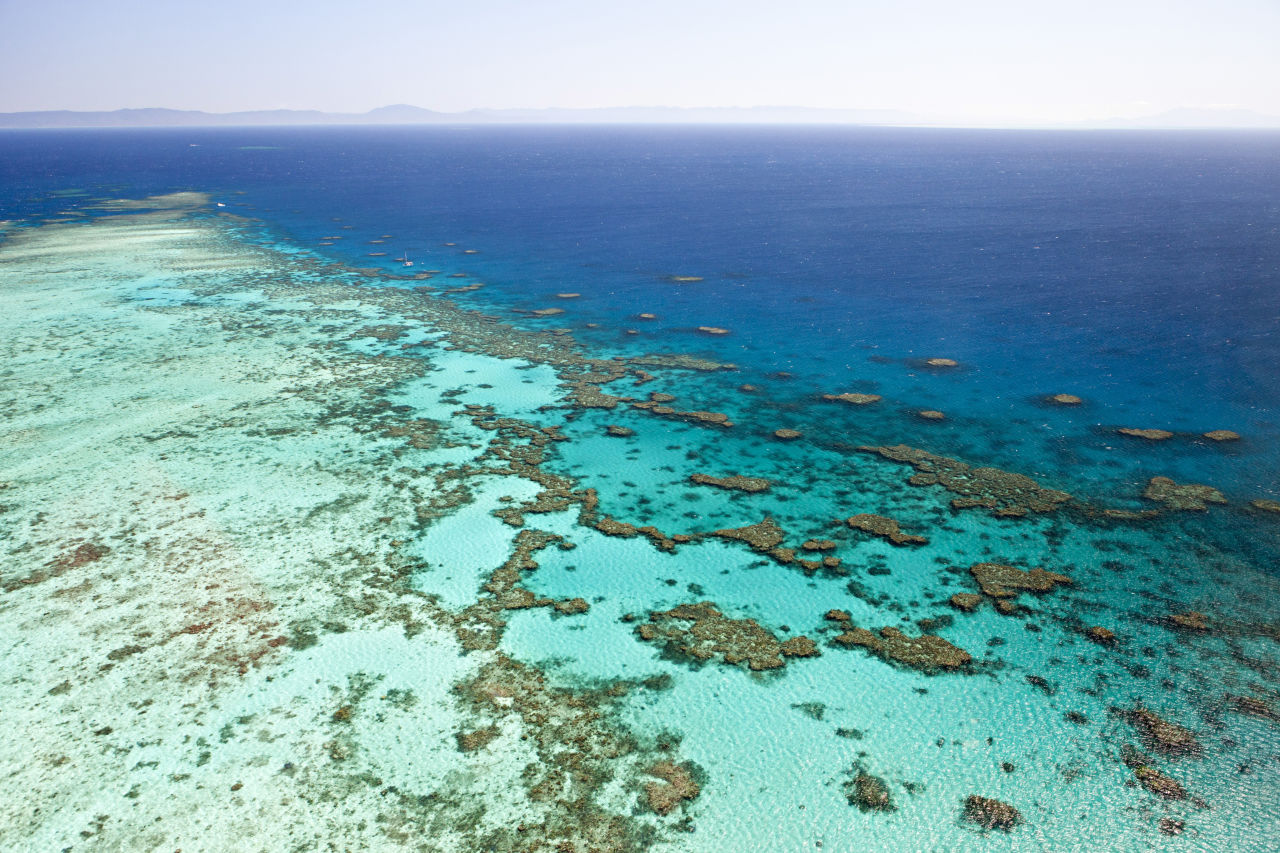 The Great Barrier Reef is the largest contiguous reef ecosystem in the world.
This is our Reef's unique power and with great power, comes great responsibility. For Katharina, it is critical that she shares her knowledge gained over many years to not only help the Great Barrier Reef, but those of our neighbours. "We are adjacent to many coral reefs in countries with far lower income and research capacity. What we are learning and doing here can play a key role helping our neighbours in small Pacific Island nations to manage their coral reef resources," Katharina says.
For Katharina, the drive to continue to protect reefs begins and ends with the corals themselves. "Since I was young, I wanted to be a biologist and study or work with animals, and I've ended up working in the most complex ecosystem that is built by animals. There really is nothing else I'd rather do."
Katarina's profile photo is by Marie Roman, AIMS