People of the Reef ·
Nev & Bev McLachlan: 'We knew we had to fight for the turtles'
Nev and Bev McLachlan have been on the frontlines of Queensland's turtle conservation for over 40 years, safeguarding valuable nesting beaches and inspiring volunteers to protect these iconic species.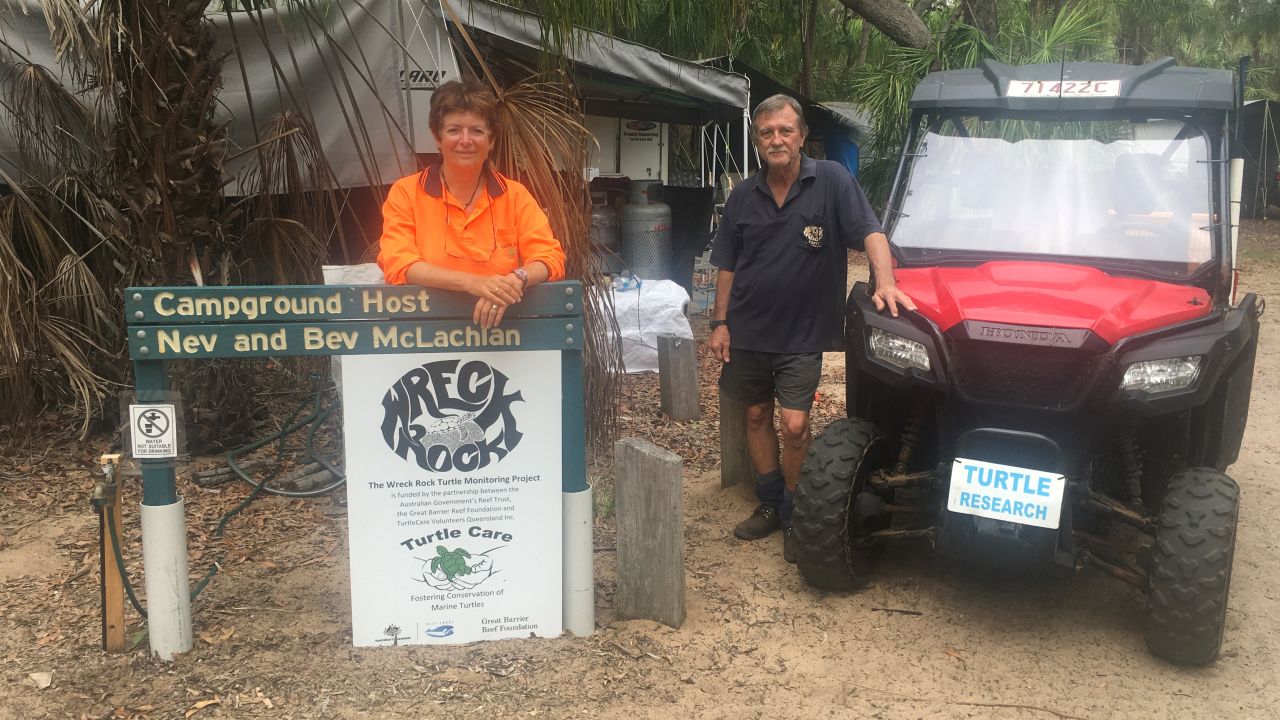 Sea turtles are iconic emblems of the Great Barrier Reef. Every summer, mother turtles make epic migrations back to the beaches they were born on to lay hundreds of eggs in nests below the sand. The life of a turtle is full of challenges, with many species increasingly at risk from entanglement, pollution, coastal development and climate change.
Nev and Bev McLachlan are on the frontlines ensuring sea turtles continue to nest and survive on the Reef for generations to come. Their inspiring dedication to these creatures spans over four decades of conservation work at Queensland's Wreck Rock Beach.
The legacy they have built through the Wreck Rock Turtle Monitoring Project and Turtle Care Volunteers Queensland Inc. may have never come to fruition were it not for a chance meeting at the local square dancing club.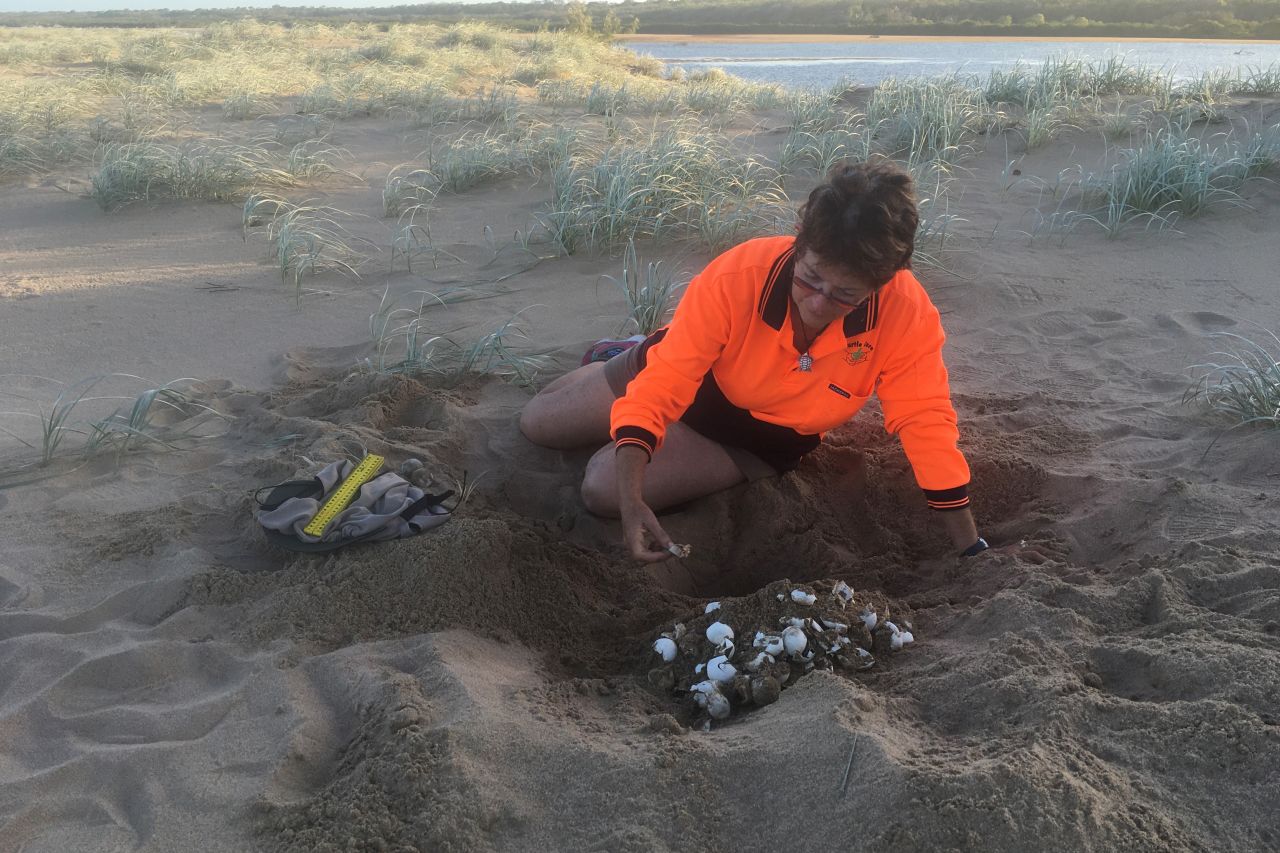 Bev carries out a nest check to assess the success of hatchling emergence. Credit: Nev & Bev McLachlan
Nev and Bev both grew up in Brisbane. During his teacher training, Nev met Dr Colin Limpus who has been a driving force behind turtle conservation in Australia for over 50 years. Before this encounter, Nev's turtle knowledge was limited and as a primary school teacher, he was not particularly interested in biology or marine science.
All it took was one season volunteering on Dr Limpus' turtle monitoring and collection project at Mon Repos to change the course of Nev's life. He saw his first turtle landing in 1971 and has not missed a nesting season since.
Meanwhile Bev's introduction to turtles came a bit later. When she was young, her parents took up square dancing, attending the local club where Nev's parents were regulars.
"My folks enjoyed it so much they said 'we've got to get the kids involved', so we went along," Bev says.
"Nev and I started a friendship and that developed. We got married in December 1977 and my honeymoon was my first involvement with turtles out on Heron Island. We came back to Wreck Rock for two weeks and since then, we haven't missed a season."
They still can't put their finger on what it was about these magical first encounters that sparked a life-long passion. When asked what has kept them motivated all of these years to continue their turtle conservation work, Nev reflected: "It's just been a part of our whole adult life. That connection we had with turtles and their plight, it's something we knew we had to do. It's been a big family connection. Our whole family has been there and grown up with us and the turtles."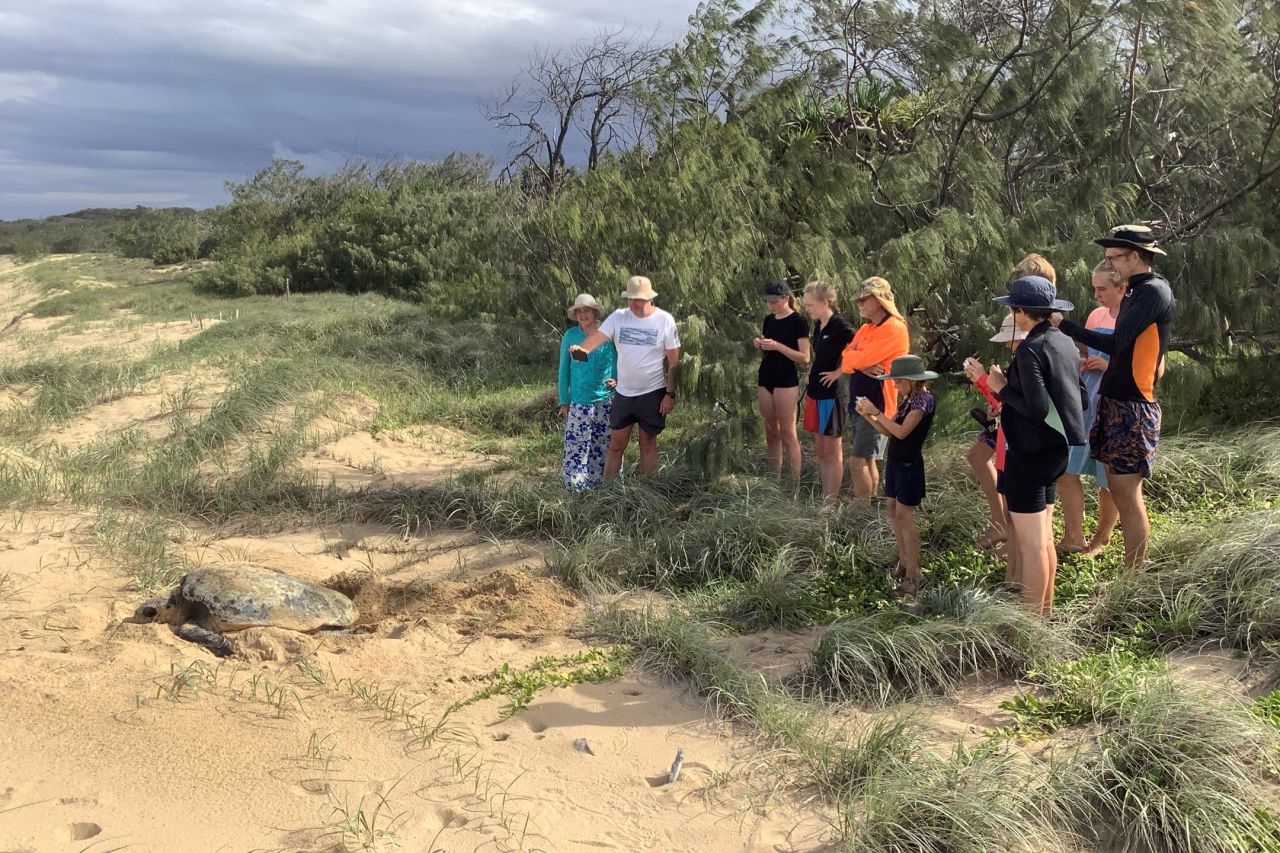 A group of lucky campers watch a turtle nest during the day. Credit: Nev & Bev McLachlan
As Nev and Bev's family grew, so too did their band of helpers. Over the years their parents, cousins and children have all come to help out.
"Seeing our family grow up and wanting to be involved is special. Our daughter always wanted to work with turtles and spent every season with us until her early 20s. She trained as a marine biologist and eventually got her PhD studying turtle strandings and rehabilitation," says Nev.
Bev continues to be inspired by the sheer determination of female turtles. Lugging themselves out of the water and up the beach, spending hours digging their nests and laying eggs, before covering them back up and returning to the ocean is an exhausting and awe-inspiring endeavor.
"Knowing what can attack those nests or the turtles makes me want to become more involved and try and protect them," she says.
"There is nothing on land that will protect the turtle, the eggs or the nests. In our particular set of beaches if we don't get something done, there won't be a rookery in 25 years."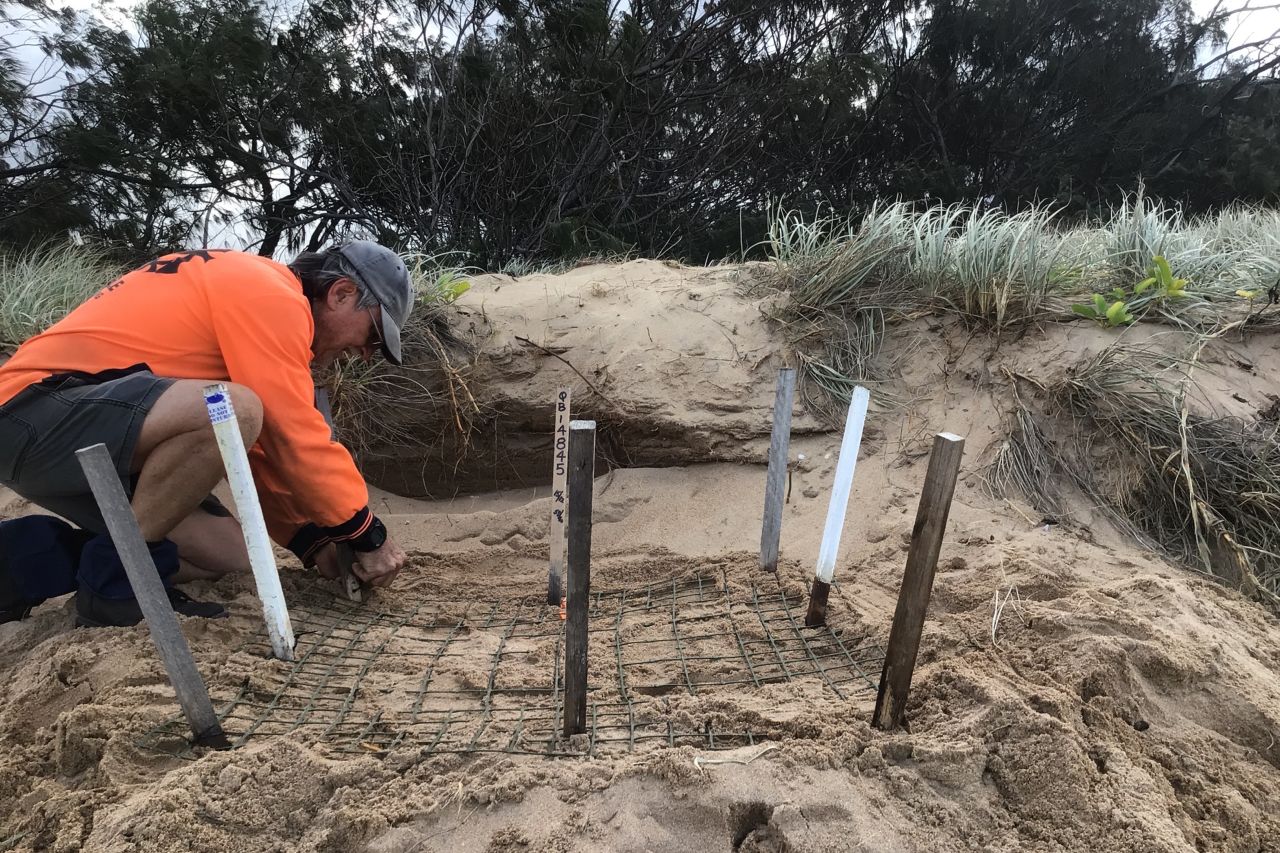 Nev clears excess sand before removing the mesh. Credit: Nev & Bev McLachlan
What keeps the pair going is the knowledge that their work is making a real difference by ensure more hatchlings survive every breeding season. They also cherish how their work fosters ongoing connection with their volunteers and community. Nev and Bev are passionate about grassroots conservation and have seen firsthand the impact that consistent dedication and effort can have on people and the environment.
They've witnessed how a single interaction can catalyse a lifelong devotion to these animals and the protection of their habitats.
"We've recruited lots of people who have come to us and said 'we want to help', and some of those people still work with us now. I still get goosebumps when we're out on the beach and you see people's reaction to what's happening and their amazement," says Nev.
They are on a mission to get as many people involved and excited about turtles as possible to ensure that Turtle Care Volunteers Queensland can continue its vital work.
"We're trying to inspire a lot of hands-on people, the grassroots people who get out there day after day and spend all their nights on the beach, come rain or high-water, collecting important data," says Nev.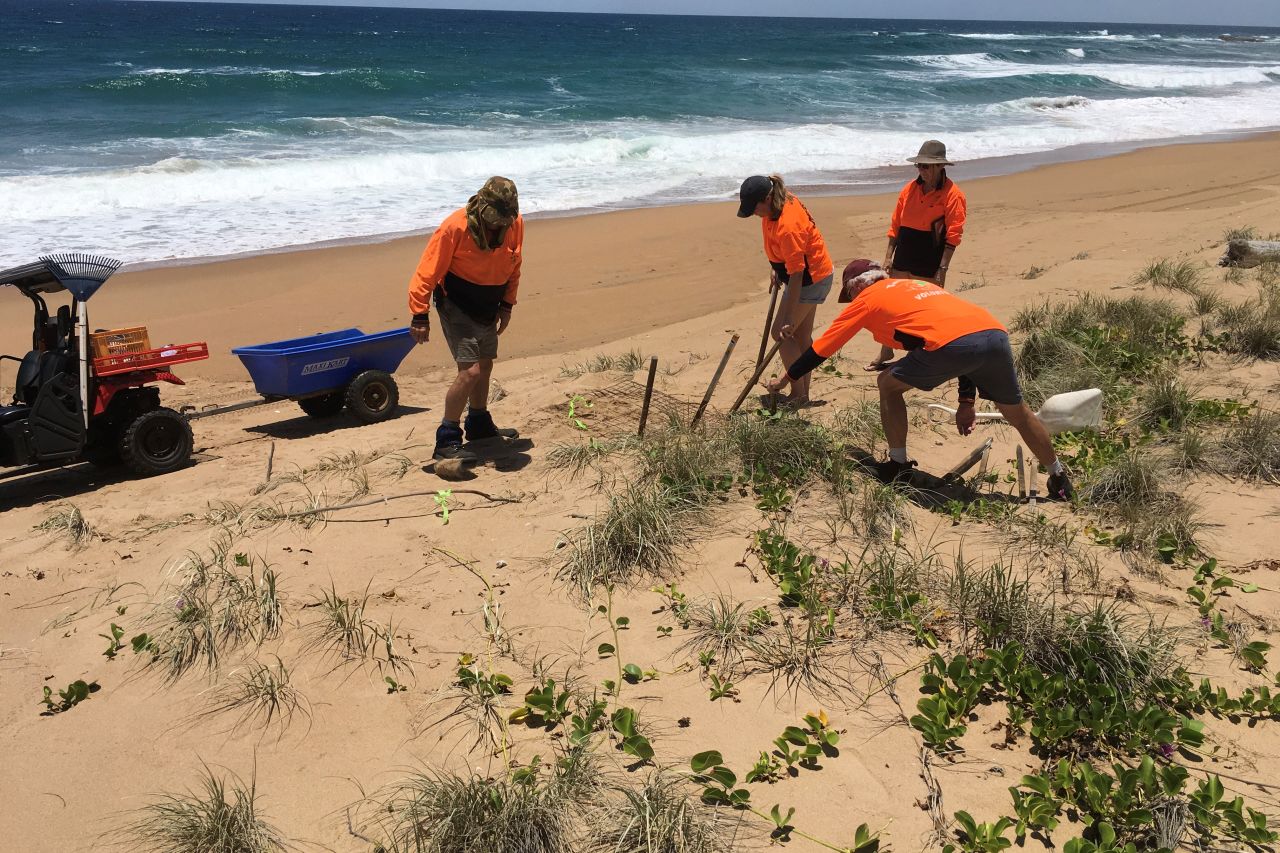 Volunteers help cover a new turtle nest with mesh to protect it from predators. Credit: Nev & Bev McLachlan
Over the last few years, Nev and Bev have been key stakeholders in the development and implementation of the Burnett Mary Community Action Plan. With a network of partners, they launched the Queensland Marine Turtle Network and hosted the first forum that brought together turtle conservation community organisations from across the state.
Nev explains: "We all get out there and do our work, and that's what we love doing. We all send in the information we gather and can see the collective data, but we don't know what each group is doing. It seemed like a network of all these grassroots groups would be a good idea,"
This new initiative will give volunteers the chance to come together and discuss issues around the work they do, share knowledge and provide support. The first meeting has already proved to be a huge success.
"We found out that some of these groups may have people available to help out with the projects that we run, so we can share resources and personnel," Nev says.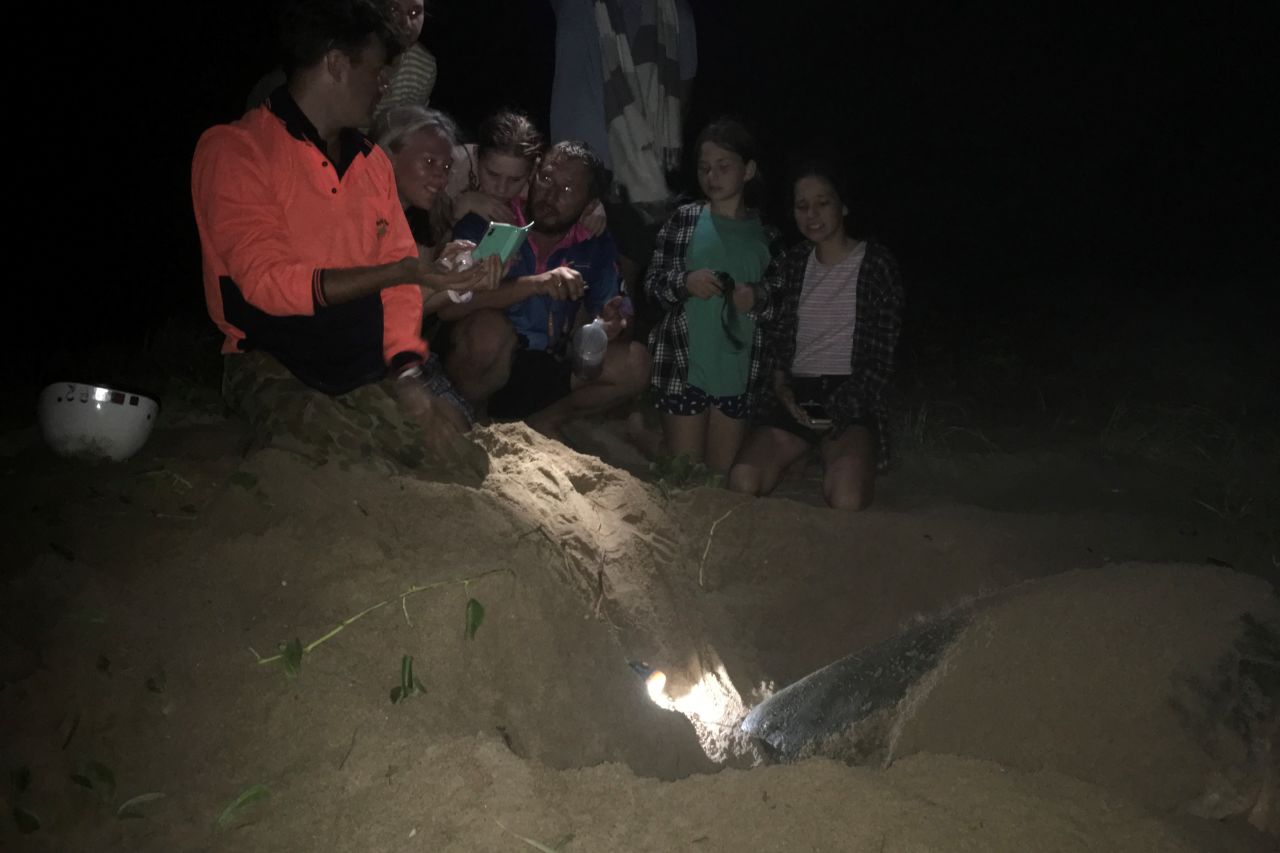 Campers watch a turtle lay her eggs. Credit: Nev & Bev McLachlan
With so many years of turtle encounters under their belt, it's hard to choose one standout moment, but both Nev and Bev will never forget the first time they saw and tagged a leatherback turtle.
Bev recalls: "My mum and dad were with us and the kids at Wreck Rock. Nev was down on the beach doing the late-night patrol and the rest of us were asleep. Suddenly I heard our vehicle flying up the drive towards our caravan, and thought 'Oh my god, what's wrong?'.
"We jumped out of bed and all I could hear was 'LEATHERBACK! LEATHERBACK!'. Well, you've never seen myself, our two kids and my mum and dad get out of a bed so quickly, jump in the back of the Suzuki ute in our pajamas, all grabbing our helmets and racing down to the beach to watch this turtle come up and lay. It was just amazing. I'll never ever forget that event."
Nev and Bev's work has already inspired not only a new generation of conservationists and researchers, but has set a precedent for the amount of care and dedication needed to make meaningful changes to wildlife practice and protection. The legacy they are leaving not just in Australia, but globally, is helping ensure turtles continue to survive and flourish across the world's oceans.