Project News ·
Dispatch from
Resilient Reefs
Key lessons and concrete steps to solving a wicked global problem
By Amy Armstrong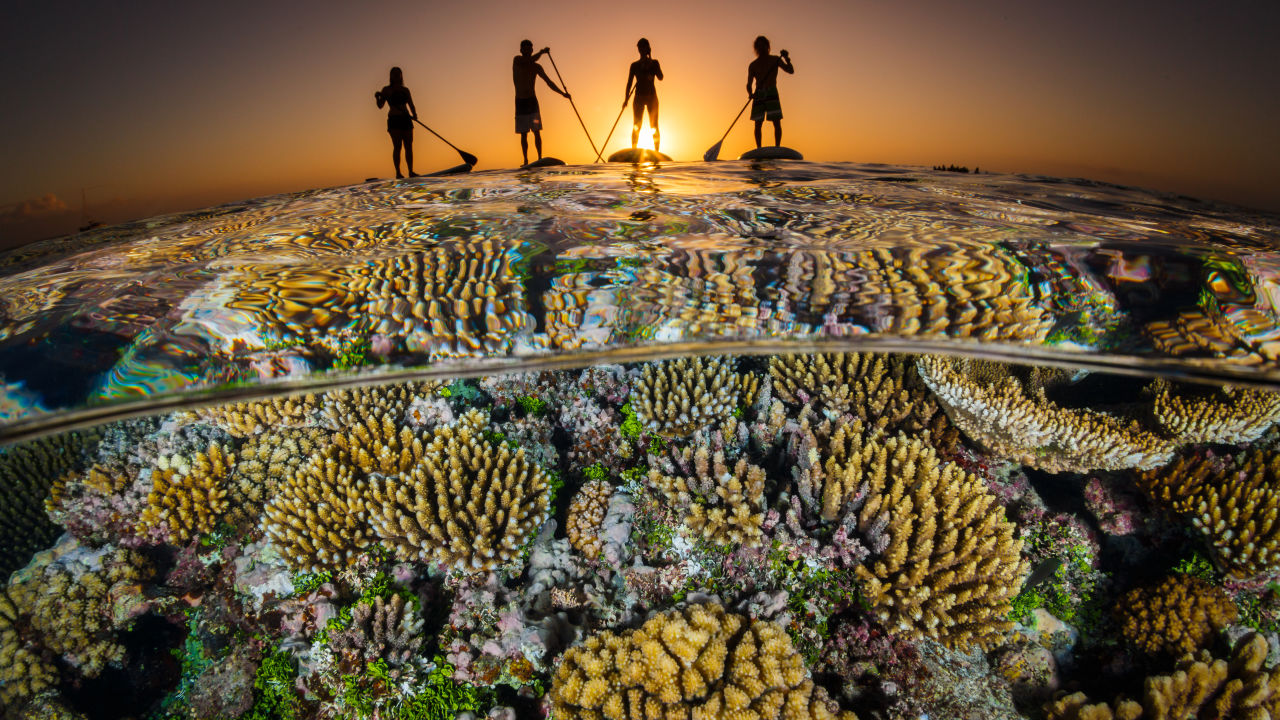 Coral reefs are essential for the future of ocean health and the survival of coastal communities. And they are in imminent danger from climate change, overfishing, land-based pollution and development, among other threats.
Resilient Reefs is a global partnership working with local governments to respond to those threats. We build local capacity and partner on the design and delivery of integrated solutions that build the resilience of coral reefs and the communities that depend on them. The work is led and delivered by local partners and is informed by global experts and the best available science.
This six-year pilot project funded by the BHP Foundation, is currently working with five World Heritage-listed coral reef sites around the globe. These five sites include three of the five largest barrier reefs in the world. They represent over 37 million hectares of coral reef, over 500 species of fish, and more than 100 groups or clans of First Nations people. They collectively hold 37% of the blue carbon stored in all World Heritage marine sites. They are impressive, important places.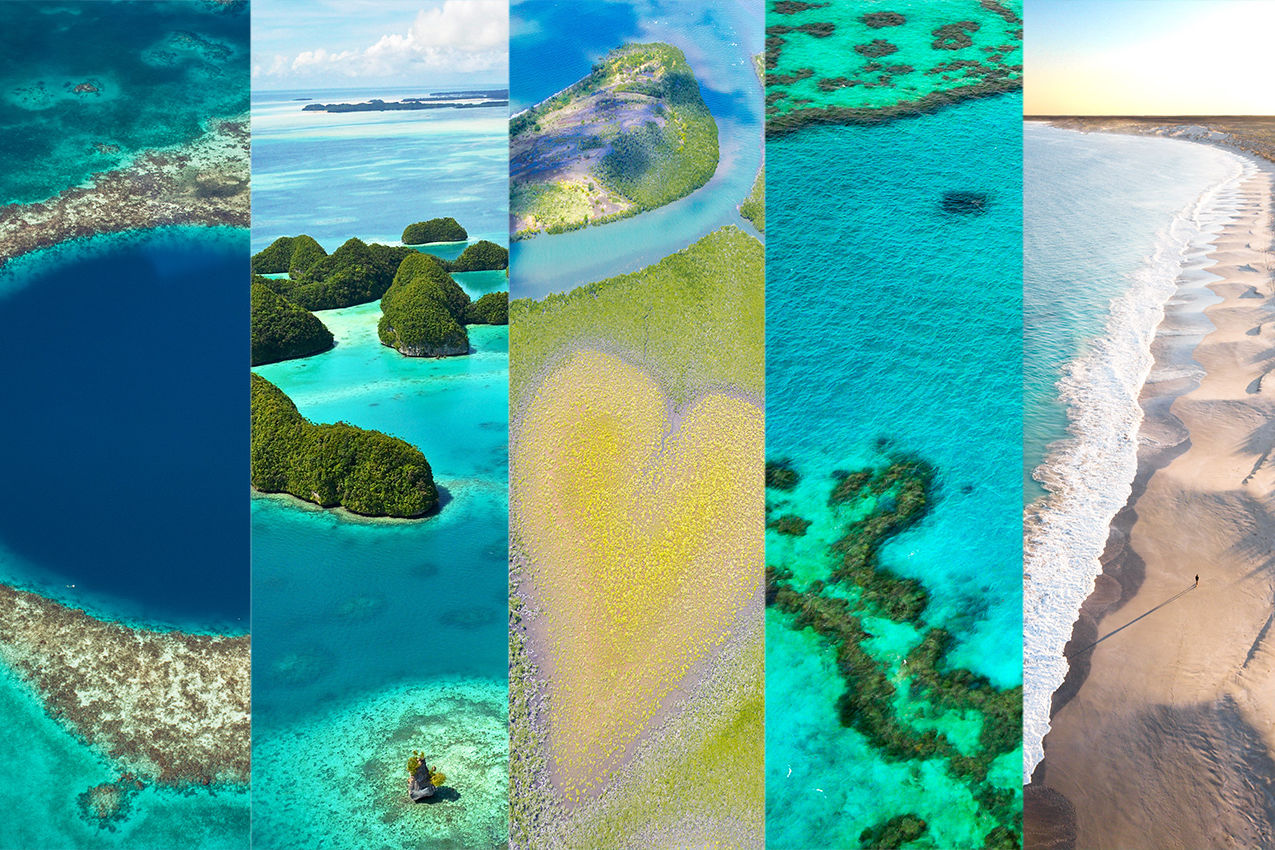 The Resilient Reefs Initiative's partner sites (from left to right: Belize, Palau, New Caledonia, the Great Barrier Reef (credit: Katerina Katopis, Ocean Image Bank), Ningaloo (credit: Joel Johnsson). Top image credit: Grant Thomas, Ocean Image Bank).
Across the five sites, there is tremendous diversity—culturally, ecologically, economically and in terms of management and governance. Yet also many commonalities.
This is the decade of action, and Resilient Reefs is dedicated to sharing lessons and collaborating with partners in support of coral reef communities globally. Nearly four years into this ambitious pilot, we are seeing common challenges and priorities emerge, and we are designing and funding interventions to respond. Below we outline these insights, which are important for our work, but also critical to share with the field.
Improve and integrate climate data into management actions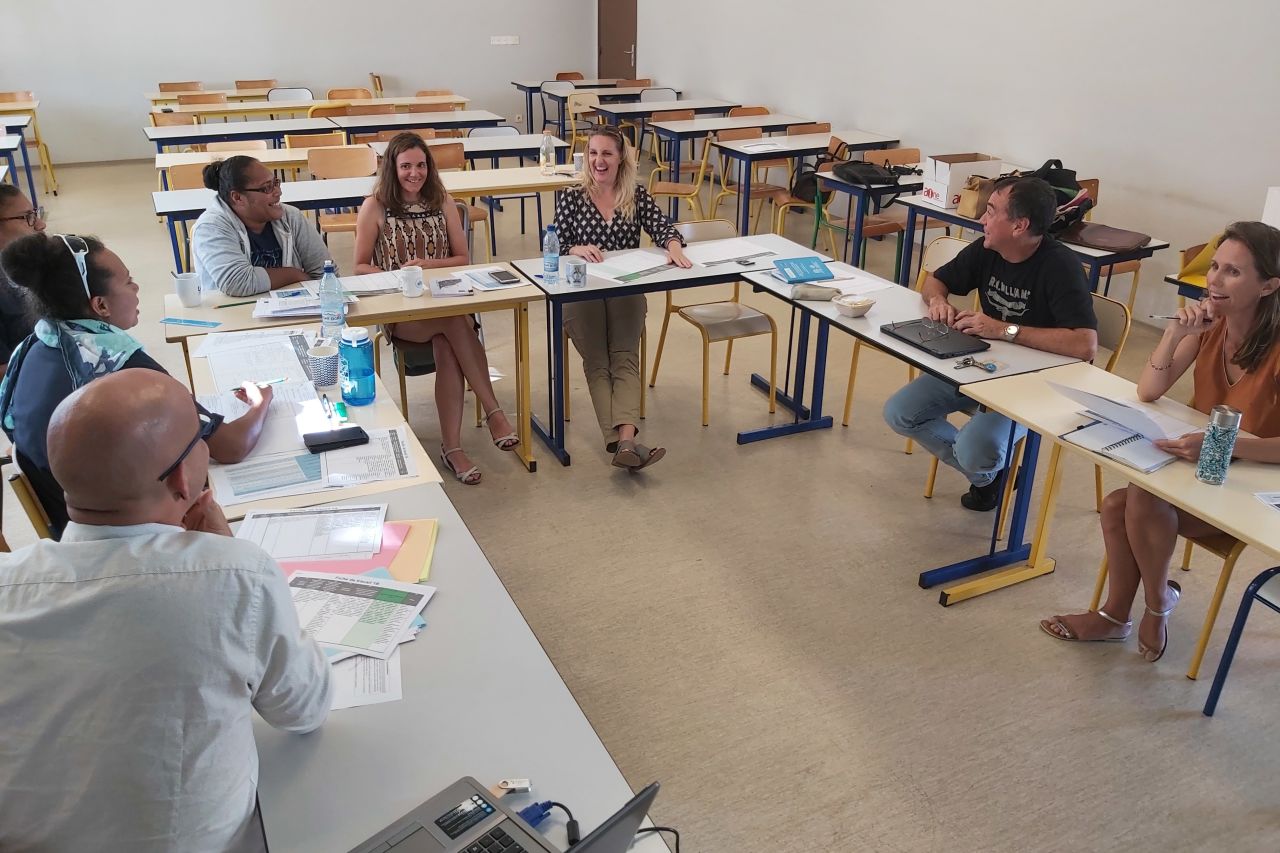 Participants in the Climate Adaptation Tool Workshop in New Caledonia in late 2020.
Coral reef communities are at very high risk from climate disasters, from hurricanes to coral bleaching to longer term stresses such as sea level rise. Despite these well-known threats, our partners consistently tell us that they have inadequate access to data on climate and/or insufficient capacity to integrate data into management responses. This impedes long term planning and adaptive management of local resources.
In response, in New Caledonia, we funded the training of local reef managers to better integrate climate impacts into management plans using the Adaptation Design Tool. Jointly organised and facilitated by the University of New Caledonia, Conservatoire d'espaces naturels, GBRF, and TNC's Reef Resilience Network, the training supported local managers to understand how to apply the present and future effects of climate change on the design of management actions. This training tackled many of the common challenges managers face when considering climate data, including embracing some uncertainty and planning across jurisdictional boundaries and different time horizons.
In addition, in late 2020, we convened our partners to explore better strategies for preparing for climate events (from better climate data to new insurance models to more integrated post-disaster planning). A summary of what we learned can be found here.
Advance co-management with Indigenous communities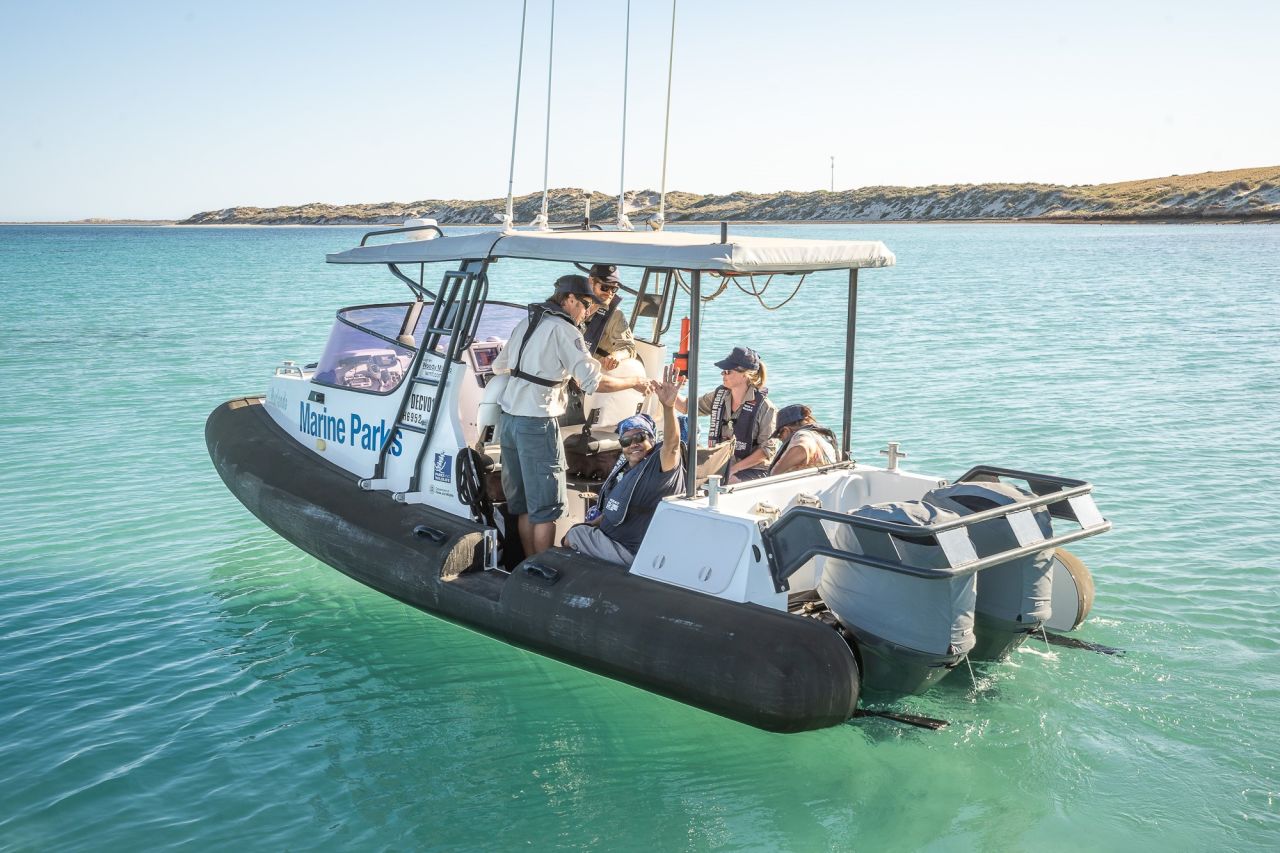 Cultural mapping of sea country with Traditional Owners at Ningaloo to support Joint Management, September 2021. Credit: Department of Biodiversity, Conservation and Attractions (DBCA).
We know Indigenous management of natural resources leads to better outcomes. We know there is tremendous potential globally to improve and increase partnerships with First Nations peoples to manage land and sea scapes. This is a theme that has come up in many of our partner communities, and one the Great Barrier Reef Foundation is advancing in the Great Barrier Reef.
In New Caledonia, we recently funded a partnership between the local reef management authority and the customary authorities to agree on a co-management approach of the green turtle population. In an historic show of solidarity, eight local tribes came together and agreed on their own sustainable management plans for their area to protect the species against over-fishing.
Likewise, in Western Australia, we have funded several partnerships with the Traditional Owners of the Ningaloo Coast, including a Traditional Owner led and owned process to map cultural knowledge (documenting tens of thousands of years of local Indigenous knowledge), and a conversation on Traditional Owner's interest and participation in reef restoration—laying the foundation for future work.
Improve fisheries management to reduce pressure on reefs
In good times, fisheries management agencies must find a delicate balance between using a natural resource to support local livelihoods and conserving that resource for the long term. In bad times—like during the COVID-19 pandemic—this balance has become even harder to achieve as tourism jobs dried up around the globe, and communities returned to subsistence fishing, increasing pressure on the reefs' limited resources.
In Palau, we are partnering with government as well as local and international NGOs to improve fisheries management: sharing data on fish stocks with local communities and seeking consensus and alignment on management that takes ecological, social and economic factors into consideration.
Limit threats associated with rapid coastal development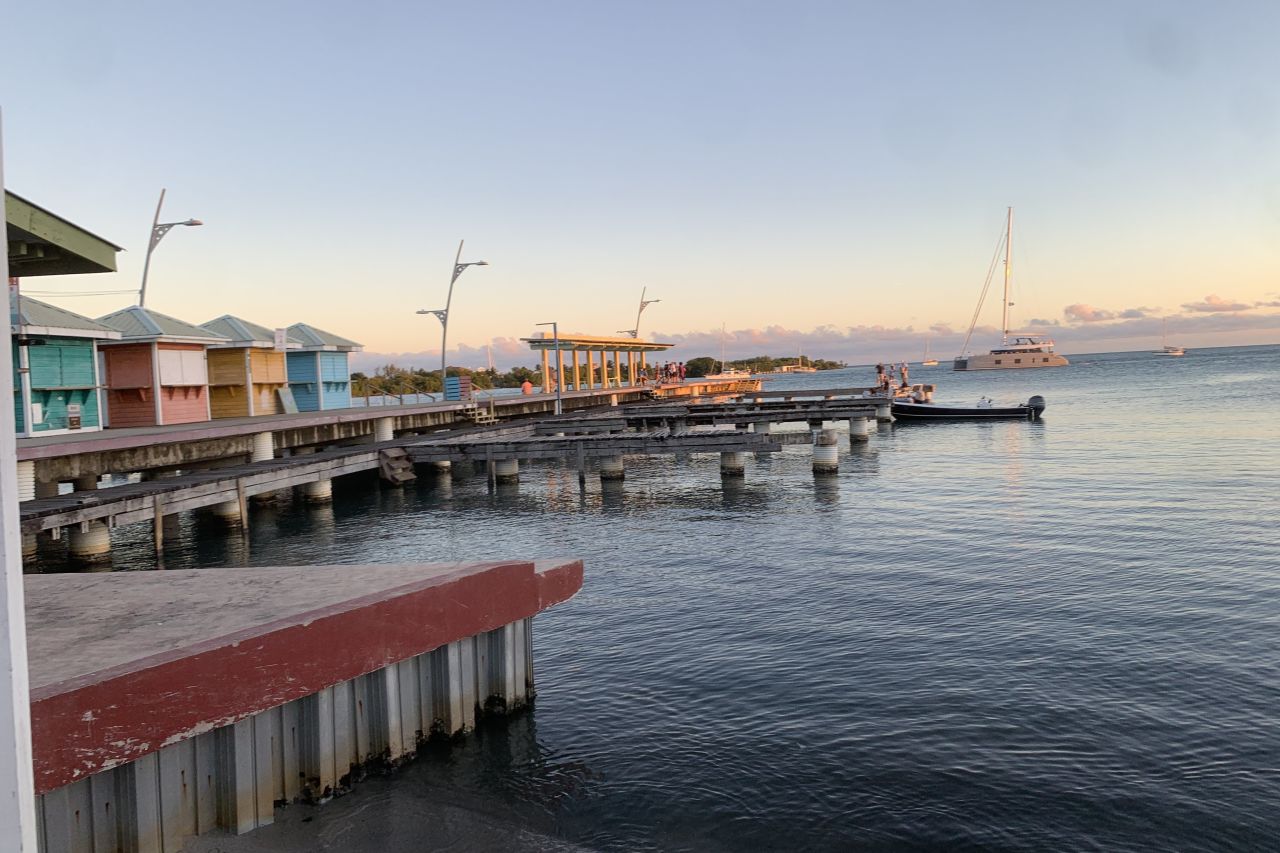 Coastal development in Belize. Credit: Thaddeus Pawlowski, Columbia University Center for Resilient Cities and Landscapes (CRCL).
Rapid urban development has negative consequences for human and coral communities alike; people end up vulnerable to storms and without adequate infrastructure and services, while corals suffer from sediment runoff, beach erosion and poor waste management practices. This is deeply counterintuitive as coastal development is often spurred by tourism centred around these treasured reefs; but too often it leads to negative impacts on the very ecosystems tourists are coming to experience.
Resilient Reefs, in partnership with Columbia University's Center for Resilient Cities and Landscapes and the Coastal Zone Management Authority and Institute, will develop a series of projects that address the challenges of rapid coastal development in Belize. This work kicked off last month, bringing together an impressive array of stakeholders in government, academia, and non-profits to align on key needs and project ideas for coastal development for Belize (from wastewater treatment infrastructure to long term planning to better balancing protection and use of local marine resources). We will be working closely with our partners to design and implement new solutions this year.
Accelerate local capacity for large scale restoration
Based on the latest IPCC reports, climate impacts are locked in to at least 1.5 degrees Celsius, signalling that emissions reductions alone are no longer enough to safeguard coral reefs. While a continued focus on reducing emissions is paramount, we must simultaneously accelerate the adaptive capacity of coral reefs to deal with a warming ocean. Achieving this requires a step-change in reef restoration and adaptation approaches.
Australia is leading the world's most ambitious research and development program to achieve this step-change and to deliver a toolbox of climate adaptation technologies and interventions effective on a large scale. With time running out, there is a global imperative to share and scale this toolbox with reefs everywhere. We have begun that work by deepening our partnership with the Reef Restoration and Adaptation Programme, making their expertise available to our site partners, and through hosting a series of workshops with Ningaloo's Marine Science team about how the future of restoration could look in Western Australia. This will certainly be an area of focus for Resilient Reefs in the future.
Build socio-economic resilience of coastal communities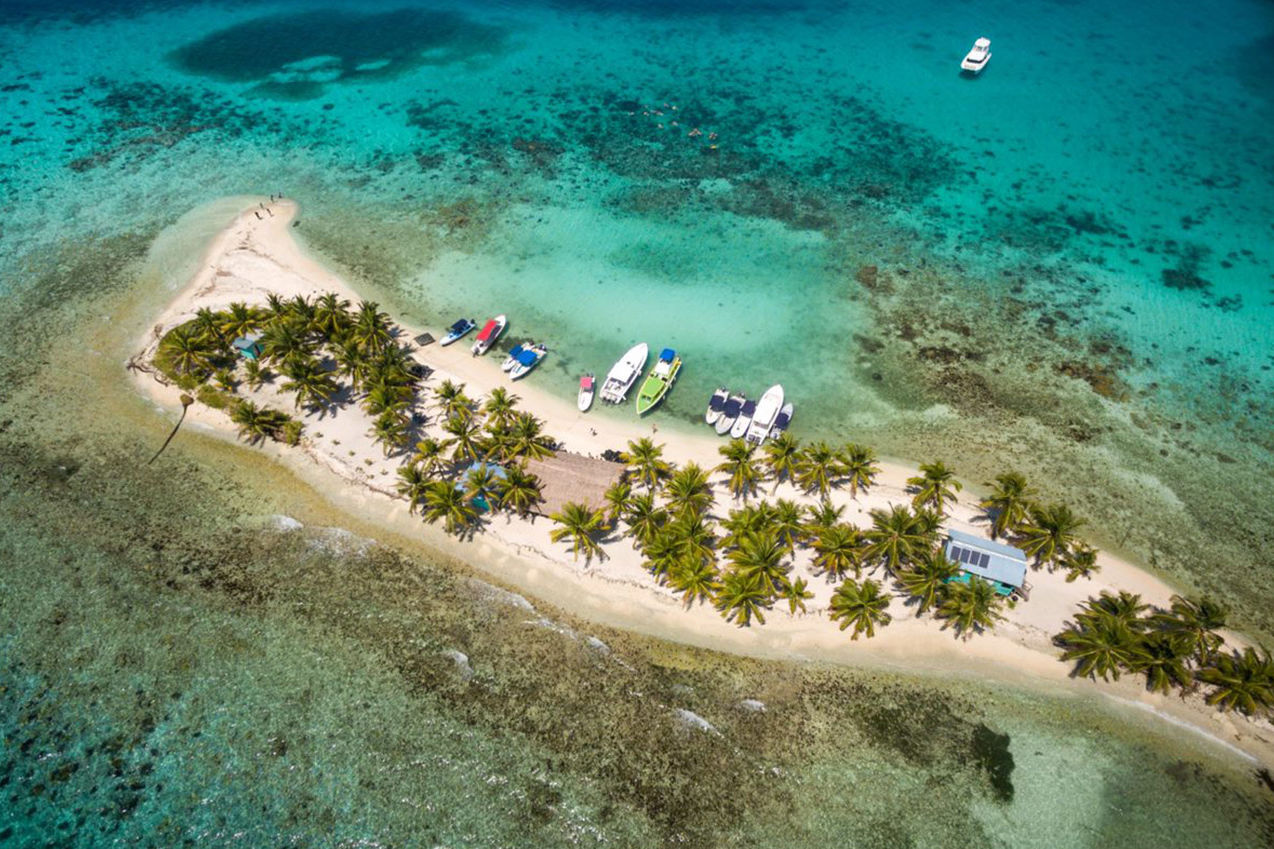 Tourism vessels at Laughing Bird Caye, Belize. Credit: Benedict Kim.
Overdependence on reef resources is unsustainable—for communities and for the ecosystem. This is a common challenge our partner sites face: local economic development (driven largely by the tourism sector) is too reliant on local ecosystems. More must be done to create economic opportunity that reduces pressure on the reef and builds multiple, diverse opportunities for local livelihoods.
To support our partner sites in tackling this challenge, in November 2021 we led a Solution Exchange to explore strategies for diversifying local livelihoods—within and away from a tourism sector that is highly vulnerable to shocks, and often places too much pressure on fragile ecosystems. We brought together dozens of global experts and all of our partner sites for a robust exchange; a summary of insights and lessons from that Exchange will be shared on RRN's website in the next few weeks.
Improve valuation of reef ecosystems
The essential ecosystems services reefs provide (from storm protection to food to jobs) are severely undervalued by the market. Our partner sites have asked for current, accessible economic valuation of natural assets to help shift local conversations and better reflect the value these reefs provide local communities. Last year, we funded such a study for the Ningaloo Coast. It revealed that their World Heritage Reef generates 1,000 full time jobs and more than $110 million in GDP. We discussed these findings, and what more needs to be done, in a Reef Chat with our partners at TNC and Deloitte Access Economics. Likewise, in New Caledonia, we have funded work with Blue Finance to evaluate the potential and sustainability of various new user fee options for MPAs that would generate more consistent revenue for conservation.
Looking ahead, we are exploring ways to better support local communities to tap into the emerging blue carbon market to generate more sustainable revenue options, while safeguarding critical carbon stores and fragile ecosystems.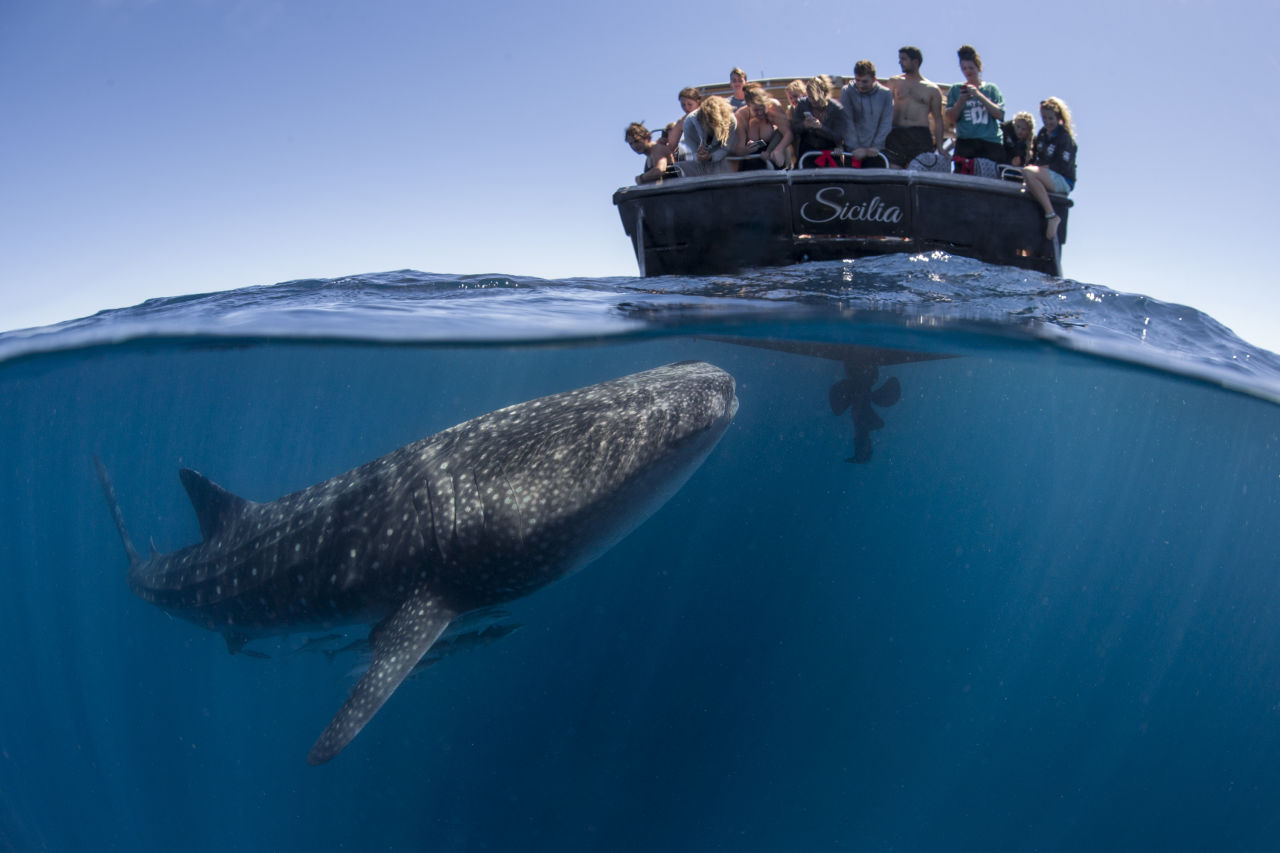 A curious whale shark approaches a tourism vessel at Ningaloo Reef. Credit: DBCA and Sam Lawrence.
Support more adaptive governance
Finally, central to all of the above challenges is governance. Fragmentation and lack of coordination among overlapping jurisdictions and levels of government, lack of political alignment or engagement with local communities, inadequate monitoring tools and policy levers to be adaptive to changing circumstances . . . these are all endemic challenges to delivering resilience-based management. Supporting more integrated, nimble and responsive local governments is at the core of RRI's work.
We have already supported the creation and hire of three new Chief Resilience Officers in reef management authorities in Australia, New Caledonia and Belize—a crucial leadership role for developing a local resilience agenda and helping local governments embed resilience thinking into management. Over the next two years of this pilot, these phenomenal local leaders and teams will be paramount to delivering the change we seek.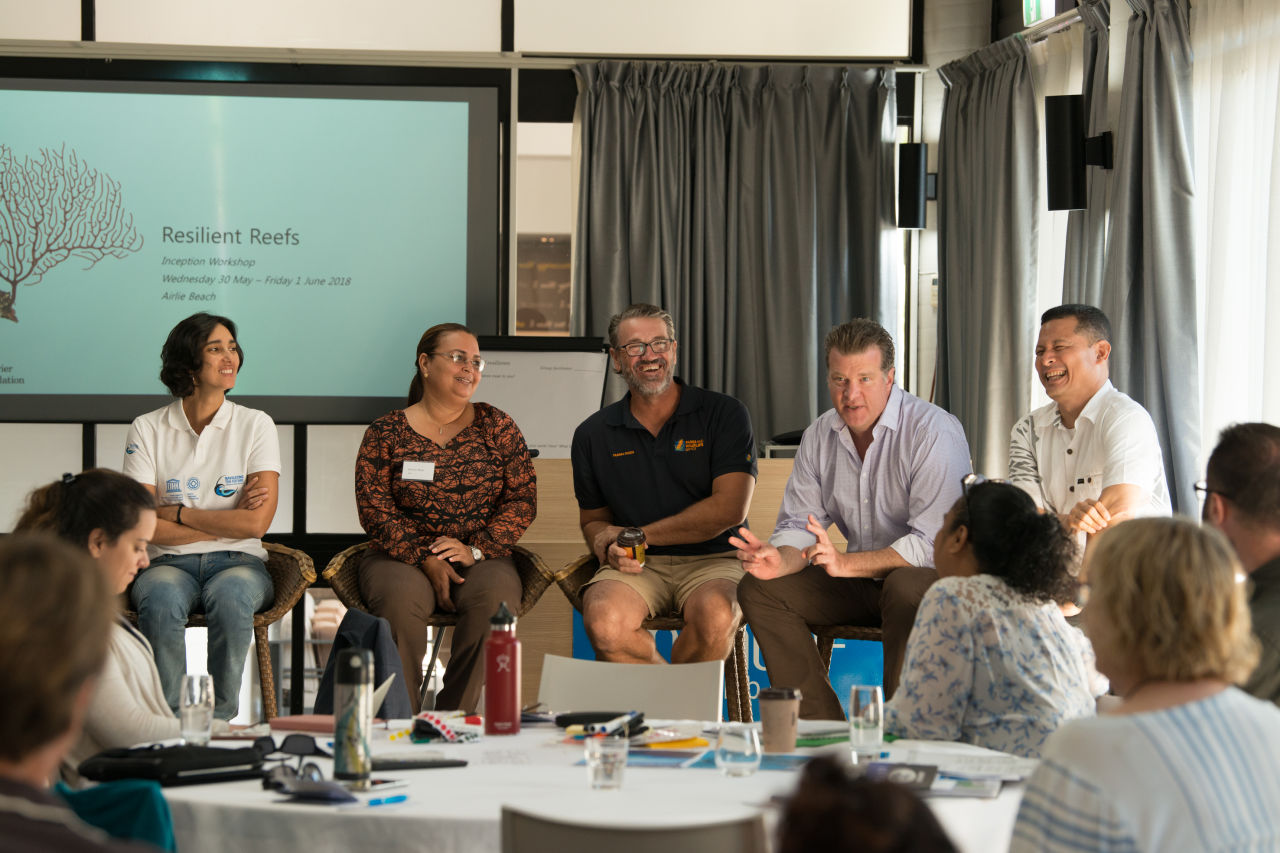 Leaders from Resilient Reefs' Partner Sites. From left to right: Myriam Marcon (New Caledonia), Beverly Wade (Belize), Arvid Hogstrom (Ningaloo, Australia), David Wachenfeld (Great Barrier Reef, Australia), Yimnang Golbuu (Palau).
The work above is just the beginning.
In the next two years, Ningaloo, New Caledonia, Belize, and Palau will each release Resilience Strategies, and the Initiative will award $5 million across the sites to fund more on ground action in these communities. We will continue to invest in learnings and exchanges across our network, including co-designing a new curricula on Resilience Based Management for reef managers globally as well as our annual Solution Exchange, and regular webinars and trainings.
As we fund high impact projects and advance more adaptive governance techniques, we will share those learnings (the successes and the failures) with the field and continue to use this Initiative to catalyse a global movement—a movement that must succeed if we are to avoid a global ecological and humanitarian crisis.
If you want more information about the initiative or how to partner with us on this ambitious effort, please contact us at projects@barrierreef.org or visit our webpage.
The Resilient Reefs Initiative is partnering with communities across five World Heritage Reef sites to respond to climate change and local threats. Established by the Great Barrier Reef Foundation, this six-year, $AUD14 million program is a collaboration with UNESCO World Heritage Marine Programme, The Nature Conservancy's Reef Resilience Network, Columbia University's Center for Resilient Cities and Landscapes, Resilient Cities Catalyst and AECOM. The program is enabled by the BHP Foundation.