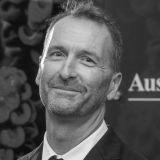 Dr Paul Hardisty
International Scientific Advisory Committee
Dr Hardisty, a recognised thought leader and sought-after speaker in his field, was appointed CEO of AIMS in July 2017.

An engineer who has worked extensively in marine and coastal environments and marine research projects, he is experienced in both the public and private sectors.

Dr Hardisty co-founded international environmental consultancy Komex Environmental Ltd, which he developed from a start-up to a $50 million-a-year company with 1000 employees.

More recently, he was director at CSIRO's Climate Adaptation Flagship, and business unit director in CSIRO's Land and Water division.

Dr Hardisty holds a Master in Hydrology, and a Doctorate in Environmental Engineering from Imperial College, London. He is an Adjunct Professor at the University of Western Australia (UWA) and Adjunct Professorial Research Fellow with AIMS @JCU (James Cook University) within the Division of Research and Innovation.